The Best Guitars for Kids (Buying Guide)
There are a lot of excellent guitars for children. Whether you're looking for an electric, acoustic, or classical style, there are many different models available.
To help you find the best guitar for your child, we'll show you what to look for, how to buy the right size, and why it's important to get an instrument that stays in tune.
We also have detailed reviews and comparisons of the best-selling models.
Our Top Picks

Yamaha CGS CGS103AII
If you're looking for a good quality beginner guitar for kids, a great brand to start with is Yamaha. They have many different options for students, with one of their most popular being the Yamaha CGS103AII.
This is a great starter instrument for the age of 8 to around 12 due to its 3/4 size and its ability to stay in tune very well. It also sounds excellent and is of outstanding quality for the price.
It's a nylon (classical) string design, which is often recommended for beginners as the strings don't hurt the fingers as much as the steel string that you find on acoustic models.
Pros:
Great for kids ages 8-12.
Very good price for the quality of the instrument.
Nylon strings are easier on kids' fingers.
Cons:
It doesn't come in bright colors that appeal to younger kids.
No strap attachment.
Strings need to be stretched before use.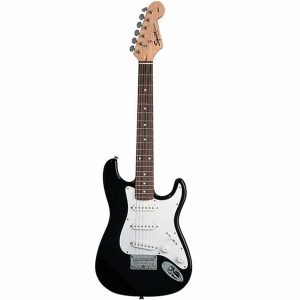 Squier Mini Strat
If you are looking for an electric model for your child, the Squier Mini Strat is the model to get.
This is the best-selling electric guitar for kids for several reasons. It isn't costly (around $100-$200), and the size and weight are perfect for most kids to be able to hold.
It also comes from a high-quality brand (Squier is the budget line from Fender), and you can get it in several different colors.
The design works well as a beginner instrument that your kids will love to play until they grow out of it or move up to a higher-priced model. Since it is from a quality brand, it will also have a good resale value once your child grows out of it.
Pros:
Small size, lightweight.
Affordable price.
Made by a high-quality brand.
Cons:
You may need to change out the strings to a heavier gauge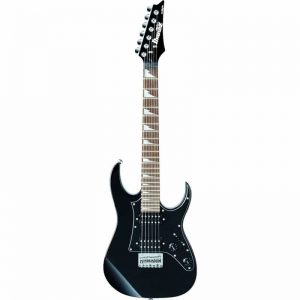 Ibanez Mikro
The Ibanez GRGM21M GRG Mikro is another excellent electric that works well for kids in the 7 to 11 age range. It is the 3/4 version of Ibanez's most popular RG design.
The body style is a little more exotic than the Mini Strat, but the overall sound and quality for the price is equal to what you are getting with the Mini Strat.
There are very few mini electric options available from the big-name brands that are high quality that are good options for kids, but the Mikro is a great one to consider.
The Mikro costs a little bit more than the Mini Strat, but only by about $50 or so. It comes in both a right and left-handed version, while the Mini Strat is only available as a right-handed style.
Pros:
Size and thin neck make it easy and fun to play.
Solid, durable body.
Nice style to it.
Cons:
You may want to change strings out to help it stay in tune.
Some kids may not like the style.

Yamaha FG JR1
The FG JR-1 is one of my favorite instruments to start kids on when they are first learning to play. It is 3/4, so again it is good for kids who are between the ages of 7 to 11.
I think the Yamaha student models, and in particular, the FG JR1 is an excellent brand and model to buy for kids who are just starting as they are affordable, sound outstanding, and are a lot of fun to play.
The other thing I like about the FG JR1 is that it very durable so you don't have to worry too much if it gets banged around a little bit.
Pros:
3/4 size is comfortable for kids.
A great quality instrument for the price you are paying.
Amazing sound and tone.
Cons:
Steel strings that some kids may find uncomfortable to play.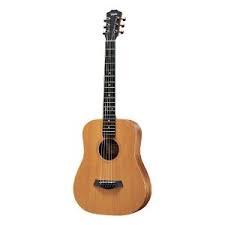 Baby Taylor
If you don't mind investing a little bit more money, the Baby Taylor Acoustic is a very nice 3/4 size acoustic option that would be a perfect starter instrument for young kids who are between ages 7 to 11 or so and who are serious about learning.
It costs around $300, so it is a bit more expensive than other beginner models, but Taylor is one of the top, if not the top, acoustic brand of guitar makers.
The Baby Taylor is a beautiful, high-quality, well-made model that is one of Taylor's top-selling models.
Pros:
Made by a quality brand.
Outstanding quality for the price.
Holds tuning well.
Cons:
A little pricey for a beginner instrument.
See more of our top picks (including 1/2 and full-size models) for:
How to Buy your Child Their First Guitar
Guitars are a great instrument for kids; not only are they relatively inexpensive, but they are also incredibly versatile and can be used to play almost any type of music.
Learning to play an instrument can help kids improve brain function, relieve stress, and learn to communicate their emotions through music. Best of all, knowing how to play the guitar is incredibly fun.
Before your kid learns how to play you need to get them the right instrument, this might sound simple, but there are several things to consider when you are looking for a guitar for a child.
Is Your Child Ready for a Real Instrument?
There are a lot of 'guitars' available at big department stores or toy stores that are marketed to kids as a good option for novices. These are generally best avoided if you are looking for a useful instrument for a child showing a real interest in music.
When learning to play, it is especially important to get an instrument that is good quality and easy to play. If you get a poor-quality guitar that doesn't play well or sound right, your kids won't stick with it, and it will leave them frustrated and discouraged.
You want to get something your child will want to use and is comfortable playing. You might pay a little bit more upfront, but it will help the learning process if they have a good-quality instrument to play from the beginning.
It is very easy to get a real instrument for not much more than you pay for a toy at a big box store.


What Is a Good Age to Buy a Child Their First Guitar?
The best age to start kids depends on the child; some children begin to play as young as age 6, but it is more common for kids to start to take it seriously around age 12.
There are both acoustic and electric styles made for very young kids, so age doesn't need to be a limiting factor when learning.
What parents should focus on, rather than age, is determining if their child is ready and wants to learn.
Have they been asking to learn?
Are they physically able to hold it without dropping it?
Are their fingers strong enough to press down on the strings?
Will they practice?
Are they able to concentrate?
If so, then yes, they are ready regardless of their age. If they are eager to learn, then let them at it.
Should I Buy an Acoustic, Electric, or Classical?
There are three main categories of guitars: Electric, Acoustic and Classical.
Electric designs have a built-in pickup that converts the vibrations of the strings that are played into electrical signals that will be amplified.
Electrics have steel strings, and if you choose this type, you will also need to get an amp and a cable so that the sound can be amplified.
An acoustic generally has a large body and steel strings. They are sometimes called flat-tops.
A classical/Nylon String is an acoustic guitar, but it has a slightly smaller body with nylon strings.
They also have wider fingerboards and shorter necks. They are sometimes referred to as Spanish style.
The most popular style for children is a classical nylon stringed option. The popularity of the classical style for kids is because of the price, the size, and the string type.
Classical are generally cheaper than other types, while the small size is more comfortable for kids to play, and the nylon strings are easier on kids' fingers than the steel-string on acoustic or electric.
Full-sized Acoustic (with steel strings) are not usually a great idea for kids who are just starting. The thick steel strings and larger necks make them difficult for children's small hands.
Electrics have lighter strings than an acoustic, as well as slimmer necks and bodies, so they are also a good choice if your child has expressed an interest. Electric models are generally a bit more expensive because you have the added cost of buying an amp and a cord, but they can be more fun to play and are much more exciting than the nylon acoustic.
For beginners, the best options are either classical (a nylon acoustic) or an electric.
If you are buying as a gift and are unsure whether to get nylon, acoustic or electric, the best thing to do is to check with the child you are buying for.
If they have expressed an interest in one type over the other, then that is the type you should get, regardless of what people tell you is the easier one to learn. Nothing is more disappointing than getting an acoustic when you wanted an electric one and vice versa.
If you are buying for a child who hasn't expressed any particular preference of a type, figure out what type of music they are into, and that should give you a decent idea about the type of music they will be most interested in learning.
Is It Easier to Learn on an Acoustic or Electric?
Whether it's better to learn on an acoustic or electric is up for debate. There is no clear rule about which is easier, although there are a lot of different opinions on why one is better to learn on than the other.
If someone tells you you should start on an acoustic even though your child wants an electric, don't listen to them. Listen to what your kid wants to do. If they are excited and motivated to learn on a particular type of guitar, then get that type.
Music teachers often recommend starting on a classical style. They do this partly because it is the cheapest option and the least intimidating for parents. Also, the idea of starting on a nylon-stringed instrument is based on the type of models that were available 20 years ago, when the best option was a classical nylon instrument.
These days' manufacturers are producing great beginner models of all shapes and sizes that are fantastic quality at decent prices. So the idea of always starting on a nylon string is a bit outdated.
I would start a child on an electric partly because the lighter tension on the strings and the slimmer necks make it easy for a kid's small hands to press down on the strings and play. Electrics are so much more fun to play than a classical, and the fun factor alone should help keep kids motivated and interested in sticking with it.
*A quick note for parents whose children are asking for an electric and you are worried about the volume levels of the amp and how noisy things are going to get around your house. Oddly enough, electrics can be a quieter option than an acoustic or classical one because electrics have a volume control, and most amps have headphone jacks so your kids can plug in their headphones.
So they will be able to hear what they are playing while no one else has to. This is something that you cannot do with an acoustic because there are no volume control knobs, and it is difficult to control how loud you are playing, especially for a beginner.
What Size Should I Buy?
If you are buying for a child under age 12, sizing is crucial. If you buy something too large, your child will have a much more difficult time learning to play it.
There are four basic sizes (with a few variations), ¼ size, ½ size, ¾ size, and 4/4 (full) size.
| | | |
| --- | --- | --- |
| Age | Height of Child | Guitar Size |
| 3-6 years old | 3'3″ to 3'9″ | ¼ size |
| 5-8 years old | 3'10" to 4'5″ | ½ size |
| 7-11 years old | 4'6″ to 4'11" | ¾ size |
| 11 +years old | 5′ plus | 4/4 full size |
These recommendations are only a rough guide. When selecting the size, it is essential to go to a music store and try out a few different models.
Since there are a lot of different heights within a particular age range, you will want to ensure that your child will be able to wrap his or her left hand around the neck, and the right arm and shoulder should fit around the body without any discomfort.
What about the Ukulele?
A ukulele is a great option to consider for younger kids. You can get a professional-quality instrument for a relatively low price.
A ukulele is smaller and lighter than a full-sized guitar making it easier for little kids (usually around ages 5-8) to hold and play.
It has four strings (as opposed to a guitar that has six), and it is comfortable for kids to fret because the strings are nylon. It is generally considered easier to learn to play the ukulele, and your kids shouldn't have much trouble learning a simple song within a few days or weeks.
There are lots of great videos on YouTube that will help kids learn melodies and chords. If you are looking for recommendations, check out our post The Best Ukuleles for Kids.
Ukuleles can come in beautiful bright colors that are visually appealing to kids, and they are a lot of fun to play. So if you aren't sure if your child is ready, but you want to get them started on an instrument, a ukulele is a great alternative.
*If you aren't sold on a Ukulele: Yamaha has a neat cross between a ukulele and a guitar called GL1 Guitalele that is a fantastic instrument and worth a look.
What If the Child I'm Buying for Is Left-handed?
If you are buying for a left-handed child, you should look for a model designed primarily for left-handed players. This, unfortunately, limits your choices a bit (especially with electric), but there are still some great options.
For the most part, you aren't going to be looking for a children's beginner model. What you should do instead is if you are looking for a child who is aged 5 to 8 years old, search for '1/2 size left-handed guitars', either acoustic or electric.
For kids ages 8 to 12, you should search for '¾ size left-handed guitar.' For kids over age 12 you will have much more choice because you can look for regular-sized left-handed models, so that opens up your options quite a bit.
Check out our post on left-handed models.
I'm Looking for a Guitar for My Daughter Do I Need to Get One Designed for Girls?
No, you don't; girls can play any of the models we recommend. However, there are some nice-looking and well-designed instruments that are very appealing to younger girls from companies like Daisy Rock and Luna.
Some bigger companies include sparkly pink models like the Darling Diva's line by Crestwood or the Fender Hello Kitty Stratocaster (if you can find one ) that some females or males may prefer.
The guitars from these companies tend to be a bit smaller, lighter, and have thinner necks than standard sizes if you would like to learn a bit more about some of the models to look out for, check out our article on Guitars for Girls.
Tips on Choosing the Best Models for Kids
There are several things that you need to think about when buying that perfect instrument for your little one. Cost, appearance, playability, brand, size, and what accessories are required are all things that you should keep in mind when you are selecting a perfect beginner option.
How Much Does a Starter Guitar Cost?
The cost can vary quite a bit depending on the brand, the design, the type of wood, and what features it has. Many people recommend spending between $100 and $150 on a serious starter model, but if that is more than you would like to spend, don't worry because there are a few good options for under $100.
An electric will cost you a little more than an acoustic because you will need to buy an amp. If you buy an electric starter package (guitar, amp, cable, etc.), you can get a good quality one for around $100, while you can get a good quality acoustic starting at $50.
But like most things, you get what you pay for, so realistically if you are looking for a serious brand-name beginner model for a child, then you can expect to pay somewhere in the $100 to $150 range.
Should I Get a Starter Pack?
A starter pack means that some of the extras that you will need to play are included. For example, if you buy a starter pack for an acoustic, you will likely get the guitar, a strap, a gig bag, and possibly some picks.
If you buy a starter pack for an electric, you will probably get the guitar, a cord, an amp, strings, picks, a strap, a gig bag, and maybe some instructional material.
A starter pack is generally a pretty good idea for your first purchase. You might save money, and you should get everything you need in one convenient package.
Some argue that starter packs tend to include lower-quality models and amps, but if you stay away from toy store brands and stick with the more prominent brands, you will be fine.
What Brands Are Best?
There are a zillion different guitar companies around, so if you are shopping for a beginner and are looking for a high-quality instrument, it would be best to look at models from some of the top brands.
Fender and Gibson are the two biggest electric guitar makers, and if you buy anything from either of these companies or their budget brands Squier or Epiphone, you will be getting a high-quality instrument. Another great brand to have a look at is Ibanez.
If you aren't sure if your child will stick with it, you can look for guitars from J. Reynolds or Excel; these companies produce inexpensive, beginner models.
When shopping for a high-end acoustic, you can look for brands like Martin or Taylor. Yamaha has a good selection of student options as well as high-end ones. If you want a more budget-conscious beginner acoustic or nylon guitar, try Hohner or Lauren.
Your best bet in deciding what to get is, again, to take your child to the store and let them try out a few different models.
Shape
Another somewhat important point to consider when choosing what will work best is the shape. Different models come in different shapes, and everyone has a preference.
The easiest way to find a shape that works best for your child is to head to a music store and try out a few different makes and models to see what they like and what fits them best. You might be surprised by what they are drawn to.
Most acoustic are what are called Dreadnought style. Other styles include Classical, Concert, Grand Concert, Auditorium, and Jumbo. These different shapes have different sizes and depths, which will affect how the sound as well as how comfortable it is to play for a particular player.
There are a few different shapes for Electrics. I'm just going to mention the most popular to avoid confusion. Probably the most popular shapes are the Stratocaster and the Telecaster, made by Fender, followed by the Les Paul and the SG, made by Gibson.
For a beginner, you will probably want to stick with one of these shapes to be safe. Electric guitar shapes are a little confusing since Fender and Gibson own the names 'Stratocaster' and 'Telecaster' while Gibson owns the names 'Les Paul' and 'SG,' but you can buy clones of these popular body shapes that are pretty much the same. The headstock is what is different on the clones.
Color and Design
Realistically most kids aren't going to care much about sound and whether it fits them properly, what they are going to care about is how it looks.
When choosing a guitar, don't underestimate how important the aesthetic appeal of the color and design is for kids. Luckily there are a lot of different bright colors available for most models that kids will love.
Accessories
Make sure you have extra strings on hand so you can change the strings as soon as one breaks. You will need to get the right type of strings for whatever model you purchase. (nylon or steel)
Another item that kids need is lots of picks. Picks have a habit of disappearing, so it is handy to buy lots in advance.
If you are getting your child an electric model, you will also need an amplifier and a cable. A good starter amp is a simple 10-watt amp.
A bag/case, strap, and tuner are also useful accessories to buy, although not necessary. Check out our post on what accessories to get.
Is It Safe to Buy Online?
There is always a risk of the guitar getting damaged when shipped, so if you are buying online, make sure you buy from a reputable website.
Also, make sure whatever site you buy it from offers a 100% money-back guarantee in case there is any damage to the guitar when it is shipped.
Tom Martin is a guitar enthusiast who has been playing for over 25 years. As a parent to two kids, Tom enjoys researching and testing out what makes a great guitar for kids. His real job is computer stuff.
Latest posts by Tom Martin
(see all)
Related