The Best Ukuleles for Kids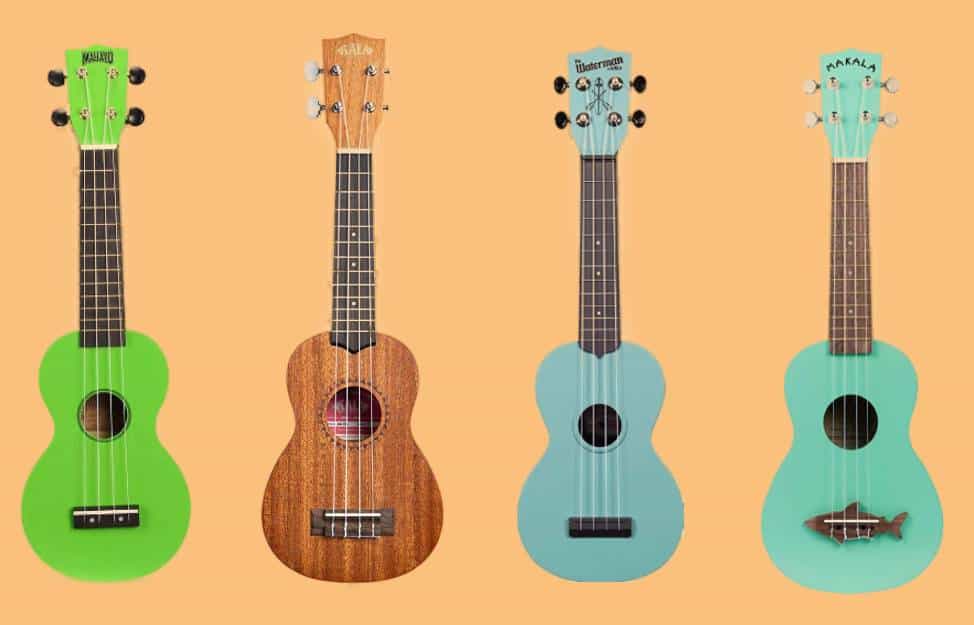 One of my favorite ways to get kids interested in guitars is to start them on a ukulele. Ukuleles are perfect for kids because they are small and they only have four strings, so they are much easier to play than a guitar. They are also much cheaper, they come in all sorts of fun colors and patterns, and you can get a high-quality instrument for a relatively small amount of money.
I would skip over toy ukuleles and go right to the real instruments, since they aren't much more expensive than toy models, and many models are built for children so they can take a little bit of a beating.
There are four different types of ukuleles: Soprano, Concert, Tenor, and Baritone. For young kids, you should look for a soprano ukulele. They are the smallest and most common style that is sold. It would be fine for a teen to get a soprano uke, but if they want something a little bigger, they could also look at concert ukuleles.
There are a lot of different ukulele brands to choose from so we have narrowed down some of the best models for kids and teens.
Kala
If you want a great starter ukulele, Kala has several good quality, inexpensive models to choose from. Some of the options that would work well for kids are:
The Dolphin or the Shark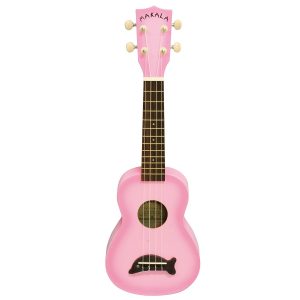 The Makala Dolphin or their Shark line are excellent first ukuleles to try out. They aren't toys but are proper instruments, so you get quality and good sound, so they are great for older or younger kids who can take care of a real instrument.
Both lines come in an assortment of colors, with a classic ukulele look and sound. They are soprano-sized and are excellent value for the price you are paying.
The differences between the Dolphin and the Shark model include the design on the bridge (a dolphin and a shark cutout respectively), and they come in slightly different colors and finishes. The Dolphins are gloss, while the sharks are satin.
The Waterman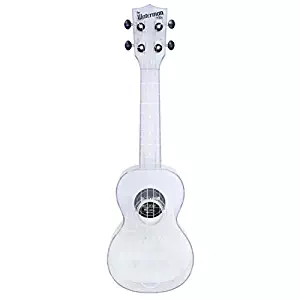 The Waterman from Kala is a cool instrument. It was originally designed to be used outdoors (I assume to take to the beach), so it was made of plastic. Usually, that wouldn't be a good thing for an instrument like this, but for the Waterman, it is perfect. It means that it is super durable and easy to clean. It isn't just any plastic, it is ABS Composite plastic, which somehow sounds great.
Also since it is plastic, you can get in a lot of cool colors and patterns or non-colors like the transparent one pictured. The Waterman's tuners and molded frets make it easy to stay in tune, which can often be a problem with a beginner ukulele. They are also quite easy to convert if you play left-handed.
Kala KA-15S Mahogany Soprano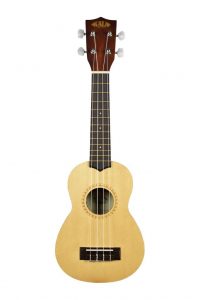 For those who are looking for a more traditional looking ukulele, The Satin Mahogany line is one of Kala's most popular lines for beginners.
It has a mahogany body with geared tuners, and for what you are getting it is exceptional value. It looks great and is very easy to play, even for kids.
Mahalo Rainbow Series Soprano Ukulele

This design from Mahalo is very cheap, trendy and it sounds great. You can buy it all over the place, and as a result, it is the world's biggest-selling ukulele.
It comes in a wide array of fun full-gloss colors, it is soprano sized and is perfect for kids, especially with schools. It is made from Sengon necks and bodies and comes with carrying bags.
Hola! Music HM-21 Soprano Ukulele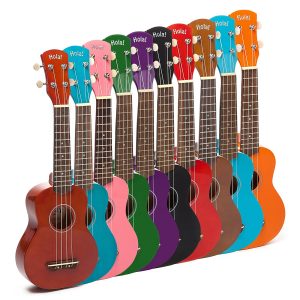 This model from Hola! is another popular budget model. It comes in a wide array of beautiful colors, is inexpensive and comes with a tote bag, strap, and picks. The body is made of maple and the fingerboard and bridge are made from rosewood.
The sound is reportedly pretty good, and it is considered relatively durable and should be able to hold up to most kids rough treatment. Some people mention that it doesn't stay in tune long, even after the strings have stretched, so you have to spend a lot of time tuning it.
Latest posts by Tom Martin
(see all)