The Taylor GS Mini occasionally comes up as a starter guitar for kids, presumably because it is considered a travel-sized guitar (meaning that it is smaller than a full size). Travel guitars are often ¾ size, which is a nice size for smaller kids.  The GS Mini wouldn't be my first choice as a children's beginner guitar. Instead, it might make a good guitar for an older child who is advanced or progressing quickly and wants to upgrade to a larger size of guitar.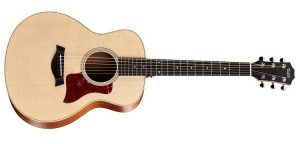 For most kids, the GS Mini is a little expensive for a first-time instrument. My other issue with it is that it is bigger than most standard 3/4 size guitars, so it feels almost full-sized to me. Don't get me wrong, this is a beautiful guitar, and if you are a parent who is into Taylor Guitars, you will probably really like it. However, if you are buying for a smaller child and want a higher end model, look at the Baby Taylor or the Martin LX1, before considering the GS Mini.
Read More: How to Buy your Child Their First Guitar
Appearance
It is a smaller and slightly less deluxe version of Taylor's Grand Symphony model.  It is a couple of inches longer than the very popular Baby Taylor. You can get it in solid spruce or mahogany top; I only tested out the solid spruce model. I would guess the mahogany version will have a slightly different tone, but nothing that beginners will notice too much. It has a non-cutaway shape, the spruce model that I looked at had a laminate sapele for the back, sides, and neck. Some users might not like the sapele, since it isn't solid wood, but it does make for a more durable guitar – which is a massive plus for travel guitars and guitars made for kids.  The bridge and fingerboard were both ebony, which looked great. It has an all-natural satin finish that some users may find a bit plain, but the rosette adds some drama to the appearance, giving it a kind of higher-end look.
Playability
I don't want to bag on the GS Mini too much because I do think it is a great guitar, but the sizing makes it feel like a full size, so I think smaller kids would have a lot of trouble playing this comfortably. Adults and teens would be able to play this compact sized model easily and would probably love playing it. It isn't as cumbersome as some dreadnoughts can be, so adults and older kids should be able to play this comfortably either sitting or standing.
Sound
There is no question that the sound on the GS Mini is comparable to some full-sized models, (although not surprisingly, the sound doesn't compare to the Taylor Grand Symphony on which it is modeled). Generally, when you buy a shorter scale guitar, you have to compromise on the sound – it usually isn't as full or as loud. That is not happening with this Taylor guitar; you are getting a warm, rich tone with excellent projection and volume. The sound on the basic acoustic guitar is great, but you also have the option to purchase the ES-Go and Taylor V-Cable (I did not test either out), that you can quickly and supposedly easily install and take the sound to another level. Other GS Mini models are also electro-acoustic, so the electronics are already installed if you are interested in that.
Quality
Since it is a Taylor guitar, as expected, the quality is top notch. Compared to some of the so-called 'beginner guitars' that I come across, it's hard to find anything to fault with the GS Mini. The top and sides are very nicely constructed, the finish is a natural satin, so it has kind of a simple look to it, but it is well done.
Things to be aware of with the GS Mini
If you are looking for a 3/4 size guitar, the GS Mini is a little bigger than that. To me it is pretty close to feeling like a full-size guitar, so don't get this one for kids until about aged 12 or so.
One of the cool things about this model is that you can easily install a pickup called the ES-Go and Taylor V-Cable (a cable that has built-in volume control) that you buy separately. It can expand the use and sounds that you get from the guitar relatively easily.
The guitar should come with a Taylor GS Mini branded padded gig bag. The bag seems nice and sturdy, so you shouldn't have to invest in a new bag, and it should be able to keep the guitar from being damaged.
Overall
Despite being an all-around quality instrument, this model isn't one that I would recommend for kids in the 8-12 age range, instead look at the Baby Taylor or the Martin LX1. Children in the 12 plus age range would probably enjoy this guitar quite a bit, but if you are buying for a child who is just starting, there isn't a huge need to buy a model in this price range. Yamaha and Fender both have some good quality, much cheaper guitars that are well suited to beginners. If you are looking to buy a Taylor for an older child and don't mind the price tag, by all means, go for the GS Mini, it is definitely a guitar I wouldn't mind adding to my collection
Read More: Resources to Help Kids Learn to play the Guitar
Specifications- Taylor GS Mini
Body Length – 17 5/8″
Body Width -14 3/8″
Body Depth – 4 7/16″
Top Wood-  Sitka Spruce or Mahogany
Neck- Sapele
Fingerboard Wood- Ebony
Fingerboard Inlay- 5mm Dots
Scale- 23-1/2″
Nut and Saddle -Nubone
Tuners-  Die-Cast Chrome
Latest posts by Tom Martin
(see all)