Buying a set of classroom guitars can be tricky.  Not only do you need to buy a large number of instruments that will fit within your budget, but you need to make sure they are good enough quality that they won't turn any potential students off playing, which is a real concern with bad quality guitars.
Most schools buy a set of matched nylon (classical style) guitars when starting a guitar program. Classical style models (nylon strings) are preferred over acoustic models (steel string) for students, as the strings don't break as frequently, the bodies are easier to repair, and they are the most gentle on beginner's fingers. As your guitar program grows, you can add to your collection each year with individual higher quality models.
Luckily some guitars come up frequently as the best options the classroom setting. Whether you are looking to get a classroom set, or you want to invest in a few quality models each year to grow your collection, the following guitars have reputations for being durable, budget-friendly and for having a great sound.
Lyons Classroom Guitar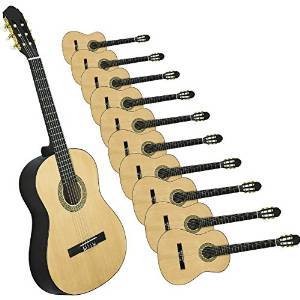 The Lyons Classroom guitars are an easy to get, classroom set of 11 that you can purchase for approximately $600. You pay for 10 and get the 11 for free. The Lyons guitar comes in four different sizes (1/4, 1/2, 3/4, 4/4), so if you are buying for younger grades, it gives you some flexibility with sizes. Since they are made for the classroom, they are built to be durable and to withstand the rough treatment that your students may put them through. They are a laminated spruce top (laminate adds to the durability) and are classical style, so they have nylon strings. You can purchase the class set at Musicians Friend, Guitar Center, and Amazon. (At the time of writing this post, the best price is at Amazon).
Rogue Starter Acoustic Guitar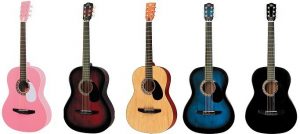 Another smaller bodied (7/8 size), inexpensive guitar that is sometimes suggested as classroom guitar is the Rogue Starter Acoustic. Since it is an acoustic style, it has steel strings, so many educators may prefer to avoid this pick. It actually wouldn't be my first pick for a classroom guitar, but if you are limited by budget and are looking for an inexpensive acoustic, you may want to check the Rogue Starter out. Rogue sell a starter classroom set of ukuleles, but I can't find a full collection of Rogue Starter Guitars, so, unfortunately, no deal on it, but the base price is pretty low so it may fit a lot of school budgets. You can buy these guitars at the usual suspects: Musicians Friend, Guitar Center and Amazon.
Ibanez GA3 Nylon String Acoustic Guitar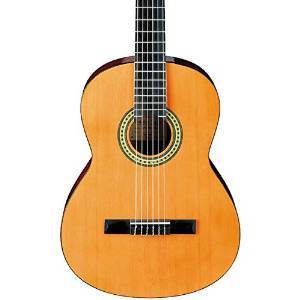 Although I haven't tried out this guitar myself, I've seen it mentioned in some places as a good, full-sized guitar choice for the classroom. I'm generally a pretty big fan of the quality of the Ibanez brand, and the GA3 looks promising. This model is priced in the $130-150 range, so it's a bit pricier than the Lyons or the Rogue, but for the price, you are getting better quality wood (a spruce top, mahogany neck), so the sound will be better than the cheaper models. The GA3 also has a beautiful looking rosette, with a natural high-gloss finish, the gloss should help stop the guitar looking too beat up after a lot of use. If you like the GA3, but want a smaller size, there is also the Ibanez GA2 which is a 3/4 size or the Ibanez GA1 which is a 1/2 size of pretty much the same guitar. The GA series is available online through most guitar retailers. Check the price on Amazon.
Yamaha C40 Full Size Nylon-String Classical Guitar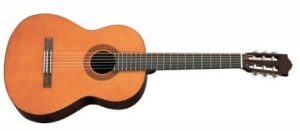 If you have the money in your budget, my top pick for a full-sized classroom guitar would be the Yamaha C40. To me, this is the best option if you are looking to get the best quality for a relatively affordable price. The wood is gorgeous, the guitar sounds fantastic, and it stays in tune well. Since Yamaha designs a lot of student guitars, they know how to make an instrument that is not only durable but is a pleasure to play. It is a proper guitar with a spruce top, nato neck, mahogany back and sides and a rosewood fingerboard. If you can fit this into your budget, this is definitely an instrument to consider for your classroom.
Yamaha CGS Student Classical Guitar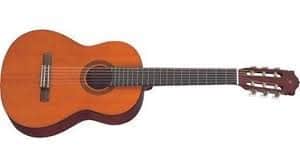 If you are interested in Yamaha guitars but want a smaller size, another option is the CGS Student series. There are a few different sizes including the CGS 102A (half size), the CGS 103A (three-quarter size) and CGS 104A (full size). This series is another excellent choice for the classroom, not only is it well built with incredible sound, but it also has the solid Yamaha quality woods of a spruce top, meranti back and sides, nato neck, and a rosewood fingerboard and bridge. This guitar will stand up to most classroom use.  The price range for the CGS series is from $110 to $150, and they are available most regular guitar outlets and stores.
Don't forget you may also need to purchase:
Cases
Electronic Tuners
Replacement strings
Picks
Straps
Automatic winder
Guitar Stands/Hangers
Music stands
Footrests
When shopping for your students, remember to find instruments that are the best quality and that have the best playability that your budget will allow. It's kind of a fine line finding guitars that kids will want to play that aren't crazy expensive, but it's essential to go for quality so that in the long run it will help keep students interested.
If you haven't found any options in this list that meet your criteria, let me know, and I can come up with some other suggestions. Or if you are an educator and have found a guitar that works well in your classroom, leave a comment below.
Tom Martin is a guitar enthusiast who has been playing for over 25 years. As a parent to two kids, Tom enjoys researching and testing out what makes a great guitar for kids. His real job is computer stuff.
Latest posts by Tom Martin
(see all)
Related