Yamaha CGS103 II 3/4 Size Classical Guitar Review
As you probably know Yamaha makes lots of different types of instruments, they have been making guitars for over 70 years, so they have had lots of time to perfect their craft. One of their most popular models is the Yamaha CGS 103II; it is a great instrument if you are looking for a 3/4 size classical style for a child in the 8 to 13-year-old age range.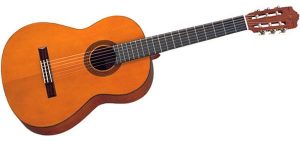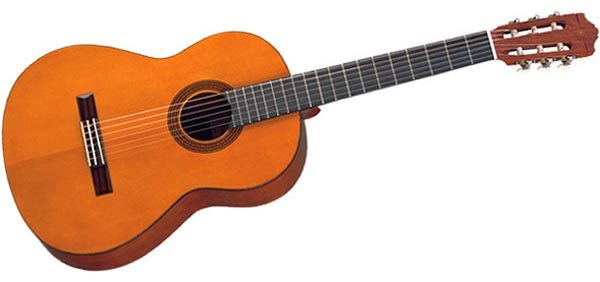 Classical guitars are generally the most common type of style for children to begin on because of their smaller size and the nylon strings that are standard on classical models are easier on kids fingers than the steel strings on an acoustic. When you are buying a first guitar for a child the two most important things to look for are getting right size for the child and that the instrument is able to stay in tune. If you can, head over to your local music store and try out different sizes and models to make sure you child feels comfortable playing with a guitar you might be interested in buying. The Yamaha CGS103II is a great beginner instrument for kids due to its size and the fact that it is able to stay in tune very well after the strings have been stretched (see below under 'What to Look out for with this Guitar').
If you are wondering about the different types of classical models that Yamaha makes there are two types, the first being the more traditional style series which include the C Series, CGS Series, CG Series, and the GC Series. The second type of classical models they make are the NCX Series and the NXT Series, these are the more modern styles with a cutaway body, and they have built-in pickups. The NCX and the NXT aren't models that you would be looking at for a young child.
Within the classical series (C, CGS, CG, GC) you will want to check out the guitars in the C Series and even better the CGS Series. The C Series is the least expensive and are made for beginners and young kids. The CGS Series is the next step up (I think the 'S' stands for student) these are probably the best choice for a child who is taking lessons. They are good quality and Yamaha price them, so they are accessible for beginners to be able to develop an interest playing on a great quality instrument. The CG Series are more expensive higher quality instruments that have the top level sound quality, performance, and playability, a lot of the models are in the $500 to $700 range. The GC Series is Yamaha's premium handcrafted line, and they are costly and not something you would not be looking at for a child who is just starting.
Read More: Guide to Buying a Beginner Classical (Nylon Stringed) Guitar for a Child
Appearance
As I mentioned above, the Yamaha CGS103AII is a ¾ size model. The scale length is 23" and it has a 4" body depth, so it's a nice size for kids who are 8 to 12 years old. As you can expect with Yamaha, the tone woods are top notch.  It has a beautiful spruce top and meranti back and sides , it has a rosewood fingerboard with a nato neck. It is a beautiful looking guitar with a nice natural finish. As with other classical styles the top three strings are nylon the bottom three strings are nylon wound with wire.
Playability
The size and excellent intonation on the Yamaha CGS103AII make it easy and fun for kids to play. It doesn't go out of tune constantly, so that adds to the playability in a big way.
Sound
I would say the sound on the Yamaha CGS103AII is surprisingly good for the price that you are playing. The intonation is excellent right out of the box, and the tuners are easy for kids to tune themselves. It also stays in tune for longer than other guitars in this price range.
Quality
It is hard to find much to complain about with Yamaha's products, it is a company that prides itself on its quality, and the CGS103AII is no exception. High quality for the price, it is comparable to some makes and models in the $300 range.
What to look out for with this guitar
Since it is a classical guitar there are two things that people often are not aware of:
The strings are nylon, so they need to be stretched for a week or so. Stretching the strings isn't a big deal it just means that for the first few days of playing you will need to retune it quite a bit. This can throw people off who aren't used to classical instruments because they get it and can't figure out why it won't stay in tune. After a week or so of playing and retuning, the strings should have stretched and begun to settle and the guitar will stay in tune much better.
Classical guitars don't usually come with a strap attachment. A classical style isn't generally played while standing up, so that is why there is no strap attachment. It can be a bit of a problem for parents who are worried about the instrument being dropped and will want their kids to use a strap. In order to use a strap you need to have an end pin and a neck pin, you can attach the pins yourself (check YouTube for instructions) or pay for the pins to be installed at your local music shop.
Overall
The Yamaha CGS103AII is a very nice beginner classical guitar with a great sound and good quality for the price. It is a perfect guitar for an 8 to 11 or 12-year-old who is starting lessons and needs a reliable, easy to tune instrument from a very reputable brand.
Where's the Best Price?


Specifications- Yamaha CGS103A 3/4 Size Classical Guitar
Top Material- Spruce
Back and Sides- Meranti
Neck-  Nato
Fingerboard- Rosewood
Bridge- Rosewood
Fingerboard Width- 48mm or 1.9″
String Scale- 580mm or 22.8″
Case – Sold separately
Latest posts by Tom Martin
(see all)