Barcelona 30-Inch 1/2-Size Nylon String Guitar Review
The Barcelona 30-Inch 1/2-Size Nylon String Classical Acoustic is a decent budget option for kids aged 4 to 8.  As its name says, it is a 1/2 size model, which means that is it half the size of a full sized guitar, so it is comfortable and easy to play for very young kids. It is also nylon-stringed so that the strings won't hurt children's fingers as much as the steel strings of an acoustic. Nylon string models are generally recommended as the best type of starter guitars for kids.
Read More: Guide to Buying a Beginner Classical (Nylon Stringed) Guitar for a Child
Appearance
This Barcelona comes in a few very nice colors (pink blue, black and natural). The finish is a high gloss, so it looks great. The style is the classic dreadnought body shape and the scale is only 30″, so it's a perfect size for younger players.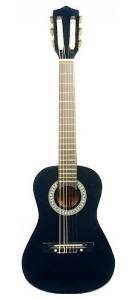 Playability
I would say this is a very playable instrument for a small child, the action is low so it is easy for smaller fingers to press down on the strings. The small size also makes this very comfortable for kids as young as three to be able to hold and reach their fingers around the neck.
Sound
For this price range, the sound isn't bad; I wouldn't buy this model if you are someone who is particular about how a guitar should sound.  You or your child might have to retune it a lot, but learning to tune the strings is an essential part of learning to play so you could look at it as a learning opportunity ( or you could get a better quality model).
Quality
Since this is considered a budget guitar the craftsmanship isn't as good as what you would find on higher priced instruments, but for what you are paying the workmanship is better than you would see on toy guitars. This Barcelona 30-Inch is pretty durable, so that is very important when you are buying for younger children who might be a little rough with their instruments.
Things to watch out for
As this is a nylon stringed, you will need to give the strings a week or two to stretch before you can accurately determine whether it will stay in tune properly. Some people have reported that there are issues with this model staying in tune even after the strings have been stretched. So if you do buy this instrument and are having trouble tuning it you should be aware that all nylon stringed guitars need a little bit of time for the strings to settle.
Since it is a classical style it doesn't come with a strap button, so if your child is going to be playing standing up and you want them to use a strap. you will have to add that separately.
Overall
If you are looking for a colorful, small, budget guitar to introduce children to the instrument, then this is one to consider. As an introductory guitar it hits most of the marks for what you should look for in a child's guitar: it's colorful, inexpensive, small, durable, has okay sound, and has nylon strings. If you are buying for a child who is taking lessons I would personally try to buy something a little better quality like the Yamaha CGS102A.
Read More: The Best Guitar Books for Kids
Latest posts by Tom Martin
(see all)