Yamaha CGS 1/2 Size Classical Guitar Review
If you are looking for a 1/2 size guitar for a child, you will find there aren't too many models available. A lot of the lousy quality toy guitars tend to fall into the 1/2 size range, and you don't want to get one of those, because they are virtually useless. Half-sized models are generally good for kids ages about 5 to 8 (the height of the child is what is more important when finding the right size rather than age.). The 1/2 sized or short scale guitar can be one of the more difficult models to make correctly and to get the sound right.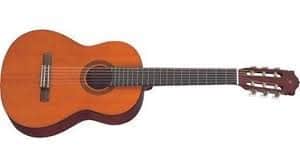 The Yamaha CGS102A is one of the best bets if you have a child who is very serious about learning or who is starting lessons and you are looking for a 1/2 size model. Since this is a classical style, it has the nylon strings that a lot of people prefer for children to start on since they are a bit gentler to play and easier on kids fingers than a steel string acoustic. The CGS102A is from Yamaha, and it is the smallest model that they make with a scale length of only 21″ (535mm). Yamaha has an excellent reputation for the quality and value of its student guitars. They aren't the cheapest instruments out there, but they are by no means the most expensive, and for the most part, they are great value for the quality you are getting.
Read More: How to Buy your Child Their First Guitar
Appearance
It is a very nice looking model with a spruce top, a meranti back and sides, and a nato neck. The first three strings are nylon; the other three are nylon wound with wire. The nylon strings are suitable for beginners since they don't hurt fingers as much.
Playability
The small size makes the CGS102A very playable for little kids. It is lightweight and comfortable for kids to play, much more so than a 3/4 size and better than a full size.
Sound
Since this is a small model you can't compare it to the sound of what you would get from a full-size guitar, but it is good for what it is. It stays in tune well once the nylon strings have settled. (You need to give nylon stringed guitars a few days to stretch out, so the strings most likely won't stay in tune for the first week or so, but after that, it should be fine).
Quality
Yamaha's guitars generally have outstanding craftsmanship. There are no apparent flaws, and the guitar has a nice finish. To me, this feels well-made and very solid.
Things to watch out for with the CGS102A
As I mentioned above, this is a classical style, so you need to know that the nylon strings will take a few days to settle and stretch out. It is useful to know because it will make the guitar go out of tune fairly quickly after you have tuned it. An instrument going out of tune a lot is frustrating for a beginner, but this something that happens with pretty much any new nylon stringed model, even the costly ones, so you need to be aware of that.
Classical styles also don't generally have fretboard markers or knobs to attach a guitar strap to. Both of these things can be kind of a pain for beginners, but they are also easy to fix. The strap knobs can be added to the body, you can do this yourself, but you need to know what you are doing or take it to your local music store. You can also buy fretboard marker stickers if that is something that your child would find helpful.
Overall
It is an excellent little guitar for children, partly because it holds a tune well and has a nice sound. The CGS102A also is a great size and price especially for kids ages around 5 to 8 who are taking lessons.
Read More: The Best Guitars for Kids Taking Lessons
Check Prices on:


Specifications- Yamaha CGS102A 1/2 Size
Body Finish- Gloss
String Scale- 535mm (21″)
Body Depth- 80-84mm (3.15″-3.3″)
Finger Board Width(Nut/Body)- 48mm (1.9″)
Top Material- Spruce
Back- Meranti
Neck- Nato
Fingerboard- Rosewood
Bridge- Rosewood
Latest posts by Tom Martin
(see all)