Rogue Starter Acoustic Guitar
I've been getting a lot of questions about the Rogue Starter Acoustic Guitar recently. It comes up fairly frequently as a good starter guitar for kids. It isn't an instrument I that would personally choose to start any young kids on (mainly due to its size), but it is a pretty good option for kids in the 12 to 14 age range interested in trying out the guitar. There are many much more expensive guitars that are easier to play and will last a lot longer, but the Rogue Starter Guitar is a low-cost option to help determine just how much your child wants to learn acoustic guitar.
The Rogue guitar line was introduced in the mid-1990s. They are available through Musician's Friend, Guitar Center, Amazon, Walmart, and a few other places. Detailed information about Rogue Guitars is pretty hard to come by; they don't even have a website (generally not a great sign). The guitar is 7/8″ scale, which means that it is 7/8 the size of a full-size acoustic guitar. This model comes in 6 different colors and retails for around $50 to $70.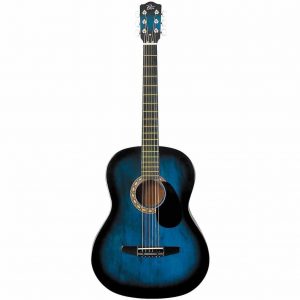 The way the guitars are produced in the last 20 years has a come a long way, making it possible to get a reasonably well-made guitar for a reasonable price that will suit a lot of beginner guitar players and Rogue Guitars is a solid example of this. It is a good beginner guitar for some kids but NOT everyone. If you have read other reviews on this site, you will know that if you are looking to find a guitar that a child will feel good about and enjoy playing, it is essential that you get one that is the right size for the child's age and size. This particular model is only a little bit smaller than a full sized acoustic, so if you are looking for an instrument that is going to be comfortable for your young child (less than 11 years old), this probably isn't it. It is, however, an excellent choice for parents with children around 12 to 14 years old, who have shown some interest in learning to play the guitar. If you don't want to risk paying  $200 for a guitar your child won't use, but you still want to give them an instrument that is easy to play, this model is the one to get.
Rogue Guitars is the house brand of the online music instrument store Musician's Friend.  The instruments are made by a few different budget-priced companies in China, although some parts may be from Indonesia, Korea, or Mexico. Rogue isn't recognized as a major brand like Taylor or Martin, but rather a beginner budget brand that offers relatively decent quality for a low price. Branded instruments like Martin, Yamaha or Taylor are more expensive, but they will last a long time and tend to have good resale value.
Appearance
The model that I had a look at (blue) is surprisingly well finished and very attractive, especially for the price. The ends of the frets were a little sharp, but I don't think most beginners would notice or be bothered by this. It has a maple neck and rosewood fretboard that looks to be reasonably good quality. It also comes with Martin strings, which are a nice touch. The strings are steel, so it will be hard on your kid's fingers when they first start out. The wood of the body is somewhat thin, which makes me think that it may not stand up well to being bashed around, so you may have to make sure you child is taking care of it properly. This acoustic comes in pink, blue, black, red burst, natural and walnut.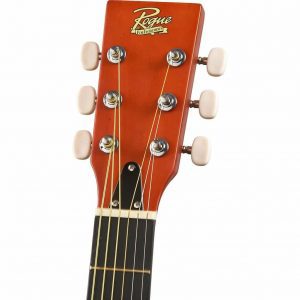 Playability
This guitar plays well for a low-cost beginner guitar, and most teens will probably find it pretty comfortable to hold and play. The 7/8 scale gives it a nice, smaller feel (as an adult playing it), as opposed to a full sized. On the model that I tried, the action was surprisingly low, which means that you don't have to press as hard on the strings to play the notes. Having an instrument with low action makes learning much easier for beginners.
Sound
This Rogue model has some issues with staying in tune, which you can look at as either a positive or negative. To me, a children's guitar that has to be tuned frequently can be a good thing sometimes, because it teaches your child to learn how to tune the instrument (using a tuner of course). Although this can become a serious issue if your child won't tune the guitar and ends up getting frustrated with it and not playing because it is always out of tune. If you do get this model, teach your kids how to tune a guitar (if you don't know how there are a million videos on how to do this on YouTube).
The sound that you get when playing is reasonably clear, rich and loud enough to satisfy most beginners. Obviously for this price you aren't going to be getting the same kind of sound as a Martin or a Taylor, but honestly it will be fine for most people.
Quality
It is not a high-end guitar, but the quality for the very low price is surprising. The sound, overall appearance and general condition of the guitar are unexpectedly good. For this price, you would be hard pressed to find a better starter guitar for a child aged 12-14.
Pros
Inexpensive
Nice selection of colors to choose from
Right size for children who aren't quite ready for a full size acoustic
Pretty good sound
Cons
Difficulty staying in tune
It doesn't come with a case, and it's a bit hard to find a case that fits a 7/8 scale guitar
 Overall
If you are looking for an inexpensive starter guitar for kids in the 12 to 14 year age range, this is a great option. It looks good, has a good quality finish and a nice selection of colors to choose from. The 7/8 scale size makes it slightly more manageable to play for kids who aren't quite big enough for a full-sized acoustic. I wouldn't recommend this guitar if your child is starting lessons, since lessons cost so much, you will want something a little higher quality (Yamaha).This guitar won't last 20 years and won't have much of a resale value, but if you aren't sure you child will stick with guitar and are looking for an instrument to get them used to playing this will suit that purpose very well. For the price it would be difficult to find anything better.
Latest posts by Tom Martin
(see all)