Best Guitars for Children Taking Lessons
Children who are starting guitar lessons need to have a good quality, easy to play guitar that is the right fit for their size and age. Guitar lessons aren't cheap, so it is well worth spending some time finding the right guitar for your child that will help make learning to play the best experience possible.
Acoustic
(For Kids ages 8-12)
Baby Taylor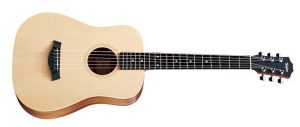 The Baby Taylor is a very popular, ¾-scale beginner guitar that has been around for a bit over ten years. It's more expensive than many of the other recommendation on this list, but you are getting a brand name that will have excellent resale value. Taylor guitars are regarded as one of the best premium acoustic guitar brands, and you can't go wrong with any of their models. If you have a Taylor Swift fan in the house, she often uses Taylor guitars. As long as it is treated well, the Baby Taylor will last a long time and give you great sound. Once your child has grown out of it, it can be used as a travel guitar. You can get it with either a solid spruce or solid mahogany top.
Martin LX1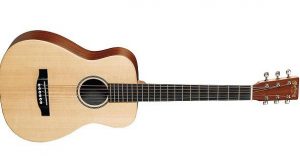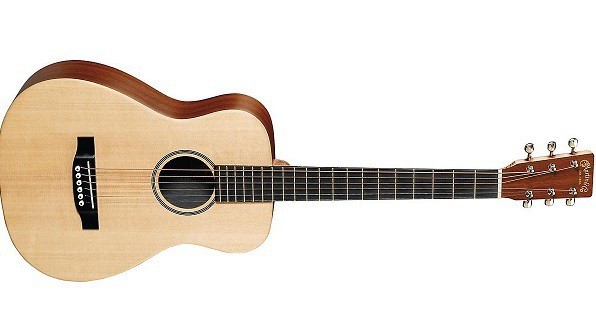 The Martin LX1 is another highly regarded brand that makes exceptional quality guitars. The LX1 is a direct competitor to the Baby Taylor, and in all honesty, you can't go wrong with either of them. It is another model that is a little bit more expensive than the Yamaha beginner guitars but should also have good resale value if kept in good condition. The size and quality of the LX1 make it an excellent option for kids taking lessons. It is also known for its nice warm, full tones.
Yamaha FG JR1


The Yamaha FG JR1 is one of our top picks, not only because it is outstanding quality for the price, but it is a perfect size for children. Yamaha tends to be the go-to guitar for most kids who are starting lessons on an acoustic. It is the small version of Yamaha's incredibly popular FG series that is known for its excellent design and easy playability. This model is specifically designed for children, so it is light and comfortable to hold for kid's small bodies and hands. It is a perfect first guitar and is highly recommended for lessons.
Yamaha FG JR2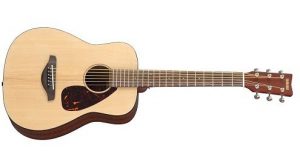 The FG JR2 is another personal favorite of mine. Any child would be lucky to get this guitar as a first instrument. It is very similar to the FG JR1, the main differences being you will probably pay a little more for the FG JR2 since the wood on the back and side is a little more expensive than the wood that is used on the FG JR1. There is also UTF (Ultra-Thin Finish) on the FG JR2, and you can get it in a Sunburst finish option as well as the natural finish, while the FG JR1 only comes in a natural finish. Another bonus with this model is that it comes with a nice, padded, brown gig bag which is perfect for carrying back and forth to lessons.
Classical
Since metal strings can be a little hard on children's fingers, guitar teachers often recommend starting on a nylon-stringed classical style of guitar. There isn't a huge selection of really quality, nylon string guitars that are a good fit for kids, but you can't go wrong with these models from Yamaha.
Yamaha CGS 1/2 Size (For kids ages 5-8)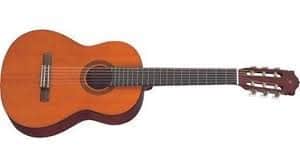 Yamaha CGS102A 1/2 Size Classical is probably the most popular, serious guitar for kids who are roughly 5 to 8 years old, and who are taking lessons. There are a few other budget models around that are half size, but most of them aren't great, and you are not going to want to invest in them if your child is starting lessons.
Yamaha CGS 3/4 Size (for kids ages 8-11)

Just like the Yamaha-CGS102 1/2 size, the Yamaha CGS 3/4 Size is the best option for kids who are in the 8 to 11 age range who are taking lessons and want to learn  (or have been told by their teacher to learn) on a nylon string guitar. It plays great, is very durable and well-made, and your guitar teachers shouldn't have any issues with it.
The Yamaha C40 Gigmaker Classic Guitar Package (For Kids over 11 years old)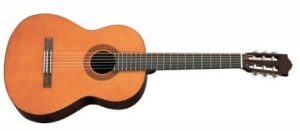 This list is a little Yamaha heavy, but Yamaha guitars are perfect for lessons. They are made well, they aren't excessively expensive, and they are very easy to play. Having a guitar that plays well is incredibly important for anyone serious about learning. If you have a cheap guitar that continually goes out of tune, or is hard to play, it makes learning so much harder. The C40 is a good, all-around starter guitar that you can get as a package that has the guitar, digital tuner, padded gig bag, and a 'teach yourself' guitar DVD.
Electric
Squier Mini Strat

Not a lot of younger kids start on electric when doing their first lessons, but if your child is interested in electric guitars, there is no reason not to go for it. For kids in the 8 to 11 age range, the best option is a Squier Mini Strat. They sound great, are the right size for kids, and they come in a variety of beautiful colors that kids love.
Ibanez GRGM21 MIKRO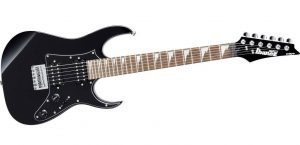 The Mikro is not anywhere near as popular as the Squier Mini Strat as a beginner electric for younger kids, but it is an excellent alternative if you aren't so into the look of the Mini. They both play great and sound good for a short scale guitar.
Squier by Fender Bullet Strat (Full size for kids over 11)


The Squier by Fender Bullet Strat is an inexpensive, but very robust guitar that would be fantastic as a first electric guitar for kids who are over 11 years old and are looking for full sized. It is a comfortable, easy to play option from a well-known brand name that is perfect for lessons.
Classic Vibe (Full size for kids over 11)


The Squier Classic Vibe is another favorite of mine; the quality you are getting for the price of this guitar is outstanding. It is a little more expensive (somewhere around $400) than some parents are going to want to pay for a first guitar, but the Classic Vibe is a model that your kids will keep for a lifetime (or at the very least it will have pretty good resale value). I would recommend this for parents who want to invest in a guitar that will inspire their kids to stick with lessons and feel great about the instrument they are playing.
Latest posts by Tom Martin
(see all)