The Best Cheap Guitars for Kids and Teens
Tom Martin
Published September 19, 2017
Last updated June 13, 2021
It is essential for all kids to have access to instruments if it is something that they are interested in. Unfortunately, musical instruments and lessons can be costly and out of reach for a lot of families.
You may have looked into buying your child a guitar and found a lot of people recommending guitars that cost $200-$300 or more, which for most people is beyond their budget.
We usually recommend trying to get the best quality guitar that you can afford because it tends to be easier to play better quality instruments and they stay in tune longer. There are however a few guitars that are decent quality that won't break the bank, that can make excellent starter instruments for your child if you are on a tight budget. We have rounded up some of the best quality 'cheap' guitars that will work well for kids.
For ages 3-7 years old:
First Act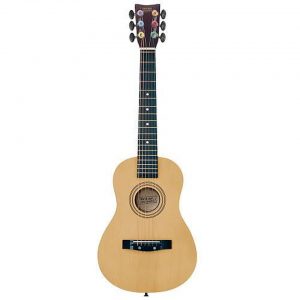 For those parents who are looking for more of a toy that will help spark an interest in learning to play, First Act is an okay choice. They aren't the best-sounding beginner guitar, but if you are looking for something your very young child can play around with, First Act Discovery models are more than adequate and very reasonably priced.
Learn more about First act guitars here.
Ukulele


A great way to get your kids playing a real instrument without having to spend a lot of money is to start them on a ukulele. Ukuleles are more comfortable to learn to play so your child will progress much quicker and be able to play full songs sooner than on guitar. Once they have mastered the uke, then they can hopefully move on to the guitar without too much trouble.
Most kids will start on a soprano sized ukulele.  Soprano ukes are the smallest and most famous of the ukulele sizes; there are lots of different inexpensive brands to choose from some of the best quality are these entry-level ukuleles from Kala. This one from Mahalo is also pretty great, my daughter has one in orange, and it is a fantastic little instrument.
8-12-year-olds
Hola! HG-36SB (36 inches 3/4 Size)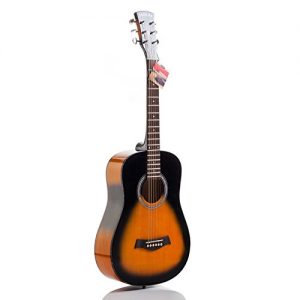 I only just recently learned about this Hola! guitar. It is reportedly an excellent quality, great sounding instrument for just under  $100. If you only have $100 and you think your child is serious about the guitar I would take a close look at this model. It is an acoustic so the strings are steel, which some people don't recommend for kids since it can be a little hard on the fingers (although after a bit your fingers get used to them). Check Pricing here.
Hola! Also, make a ukulele that is an excellent price if you had considered getting a ukulele instead of a guitar. You can find that here.
Mini Strat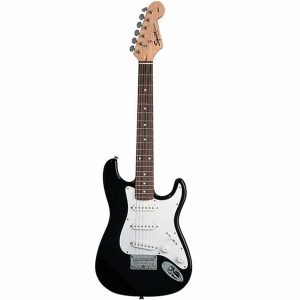 Squier's Mini Strat is the best option if you are looking for a good quality, yet relatively inexpensive electric guitar for kids under 12 years old. It comes in a bunch of different colors, and it is exceptional value for the price you are paying.
You might be able to find this somewhere for around $100 if you get it used or if you wait for it to go on sale, which it often does around Christmas. I love this guitar and think it is the perfect starter electric for younger kids.
It is a little more expensive than the no-name electric guitars that are kicking around, but it is worth the extra money and it should have a decent resale value once your child grows out of it. See our review for more info.
SX RST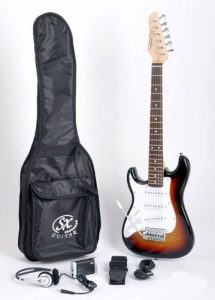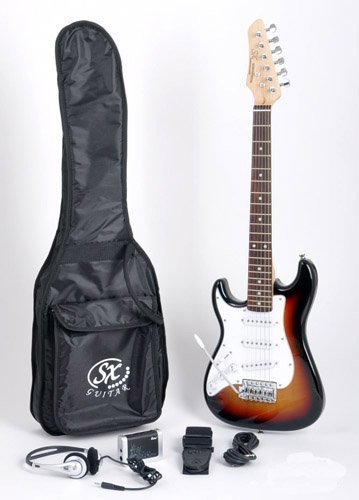 The SX RST guitar is also a decent budget option to check out, especially if you are looking for an electric guitar for a very young child (8 years old or younger) since this model comes in a 1/2 size which is unusual for an electric guitar.
It also comes with a left-handed option which you also don't find very often with a children's electric guitar. It isn't the best children's guitar that you can get, but if you don't want to spend too much, it is worth a look. Read our review here.
For kids 12 and up
When you get into the full-size guitars, it is a little harder to get anything with any quality in the $50  to $100 range, but there are some decent options in the $100 to $200 range.
Getting an excellent electric guitar is especially tricky for under $200. If that is out of the question for your budget, you could always try getting a used guitar.
Jasmine S35 Acoustic Guitar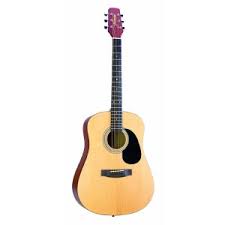 One exception to getting a guitar under $100 that is decent quality is the Jasmine S35. It is one of the most popular starter guitars around. It is known for having great sound, good quality and the price can't be beaten for what you are getting. It is also easy to play especially for beginners, because of its lightweight body and slim neck.
Ibanez – IJV50 – Acoustic Guitar Jampack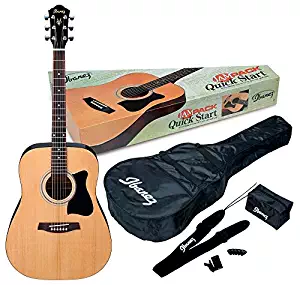 Sometimes a starter package is the best way to go for teens. This package from Ibanez is a good option if you want a decent quality student guitar with a few accessories thrown in.
The body of this guitar is known for being sturdy, so it's greats for teens who may be a little rough with their instruments. It also has a nice tone and good sound. Find out more here.
Fender FA-100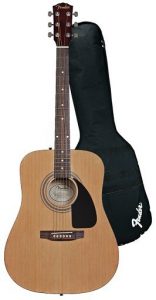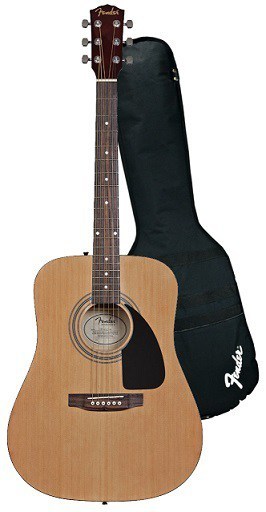 The FA-100 is Fender's contribution to the beginner budget guitar market. The Fender FA-100 Dreadnought Acoustic Bundle also comes as a starter pack with everything you need to get started. I love Fender and its budget brand Squier for beginner guitars.  I feel like they try to get out decent quality guitars for a pretty good price.
Now on to full-size electric guitar options. It is possible to buy electric guitars for under $100, but I would advise against doing this since they are going to be deficient quality. Sometimes, people, have luck getting a used guitar for under $100, but before you buy anything make sure you have someone who knows about guitars try it out to see if it is any good.
If you don't know anything about guitars and you buy one without knowing what it is supposed to sound like you are taking a significant risk. The following are some of the best budget full-size electric guitars that are great for teens.
Epiphone Les Paul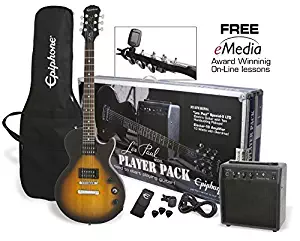 This starter pack from Epiphone (Gibson's budget brand) is an excellent place to start for kids and teens aged 11 or older. It is a solid quality full-sized beginner guitar that comes with most of the accessories that beginners need (amp, gig bag, cable, tuner, strap, and picks).
The Epiphone Les Paul is designed to look and feel like a Gibson Les Paul, but at a much lower price than what you would pay for the higher-end model. If you prefer not to buy it in a starter pack, you can always get this model without the amp and the accessories, and it will be a little cheaper. Find out more here.
Squier by Fender Affinity  Telecaster


Squier has some guitars that are great for beginners. My favorites are the Squier by Fender Affinity Stratocaster and the Squier by Fender Bullet Strat that are both great full-sized guitars for teens that are just under $200.
The Stratocaster and the Telecaster, are two of the most famous guitar shapes and most teens are probably going to be pretty happy to get either one. They sound great, are light and easy to play, and come in a few different colors.
Epiphone Les Paul SL
The Epiphone Les Paul SL is a very new guitar that has been getting a lot of attention due to its extremely low price from a quality brand name.
It's been a surprise hit with beginners and experienced guitarists who like to mod their guitars. They are a little hard to get a hold of right now, but if you have the opportunity to get your hands on one, they are well worth a look. Read our post about the Epiphone Les Paul SL
Tom Martin is a guitar enthusiast who has been playing for over 25 years. As a parent to two kids, Tom enjoys researching and testing out what makes a great guitar for kids. His real job is computer stuff.
Latest posts by Tom Martin
(see all)
Related