Lyons Classroom Guitar Review
The Lyons Classroom Guitar is an interesting choice for a beginner. It is designed to be purchased in large quantities by schools, so it is built to be playable as well as very durable because school kids are going to give it a beating.  It's classical style, so all of the strings are nylon (the lowest three are wrapped in bronze), and it has a wider neck than a traditional steel string acoustic or an electric. One thing that is pretty cool about this model is that you can get it in the smaller fractional sizes. So it works as a 'real' guitar for a young child (3 or 4 years old if you get the 1/4), as opposed to getting a toy guitar. It is also available in 1/2, 3/4 and 4/4 (full) size models.
Appearance
Generally, this is a nice looking instrument. It has a gloss finish and an attractive rosette. I believe it is only available in a natural color top with dark brown sides and back. If you look closely at the finish, you may find some imperfections.  As I mentioned above, it comes in smaller sizes, so it covers pretty much any age of student. (If you would like more info on sizing, please see our Classical guitar Buying Guide.) The tuners are a little cheap, but this is a common issue on budget models.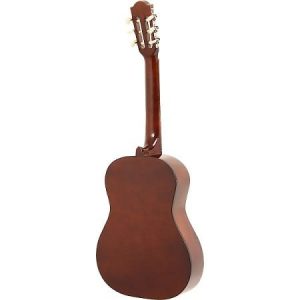 Playability
If you are shopping for a child, the primary thing that you want to look for when choosing a model is whether the instrument is easy and fun for your child to play. As far as what makes a guitar playable you want something lightweight (this one is), you want it to have low action (it does), and you want it to be the right size (this model has four sizes to choose from).
For a budget instrument, the Lyons Classroom plays very well. The action (how high the strings sit above the fretboard) was low on the models that I have seen, although some reviews do report the action to be high on the guitars they received. For kids you want the action to be low so that it is easier for them to press down the strings and play.
One note about playability: Since this is a nylon stringed classical, the neck is wider than a steel stringed acoustic. It can be an issue for kids who have tiny hands, making it difficult to wrap their fingers around the fretboard.
Sound
As with other nylon string instruments, the strings will not stay in tune and will need to be retuned until they stretch for the first couple of weeks (there is no way to avoid this if you are getting a classical style). Tuning is something that beginners often find very challenging, but if you purchase a good tuner, that will help.
The sound is decent, although if you buy one of the smaller sizes, the sound varies quite a bit. Smaller-bodied guitars produce a smaller sound and different tone than a full-bodied guitar. You might be a little surprised by this if you are expecting it to sound the full sized.
Quality
You have to judge the quality of this instrument based on the price. Compared to other guitars in this price range, the quality is pretty good. There are some flaws in the finish, and you may even find a bit of dried glue residue around the neck, body, and headstock. But it isn't terrible for the price you are playing.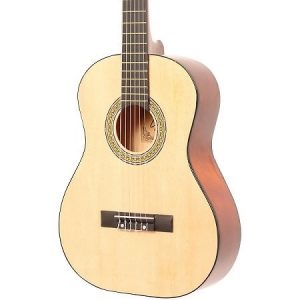 What to look out for with the Lyons Classroom Guitar
There are some issues with varying quality control from the manufacturer on the Lyons Classroom. Some batches of guitars are great and play well, while other batches have some serious quality issues. Before purchasing this model, make sure you are aware of the return policy in case you get a poor quality instrument.
Overall
The Lyons Classroom is a decent beginner guitar. It sounds good, and the different sizes available make it accessible for all ages of children. There are some minor issues with quality, but for the low price you are paying, you can't be too nitpicky about those. Most kids won't even notice anything wrong with the appearance. If you are looking for a very durable guitar that you don't have to worry about your kids damaging, this is a good choice.
The one thing I will add is when you purchase an inexpensive instrument you run the risk of getting something that ends up being hard to play. When you play a low-quality instrument, it can be incredibly frustrating, and it may discourage your kids from continuing to play. The Lyons classroom is fine, but if your child is serious about learning, I would encourage you to look at the guitars in the $100 – $150 range, since the quality of the higher priced models starts to improve at that price point.
Read More: Best Guitar Books for Kids
Latest posts by Tom Martin
(see all)