Yamaha C40 GigMaker Classical Acoustic Guitar Package Review
The Yamaha C40 Gigmaker Classic Guitar Package is an excellent value starter package if you are looking for a classical (nylon stringed) guitar for a child who is in the 11 to 12-year-old range or older. The C40 is a full-size model, so you don't want to get this instrument for children younger than 11 because the size will make it too difficult for them to play. It is a good quality inexpensive model put out by Yamaha who has an excellent reputation for producing quality classical guitars. The C40 is of exceptional value for older children and beginners because it comes as a package that includes a digital tuner, padded gig bag, and DVD.  The C40 is often recommended by music teachers as a good option for an entry-level student guitar.
Read More: Guide to Buying a Beginner Classical (Nylon Stringed) Guitar for a Child
Appearance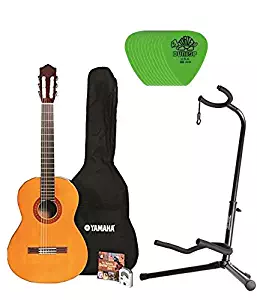 The C40 has a traditional high gloss finish that you will find on a lot of classical models; it also has a slightly dark wood finish that looks great. The neck does not come with varnish and is wider than what you would find on other acoustics or electrics. Since it is classical style, it has the standard three steel strings and three nylon wound with wire strings, and the body is bigger than a standard full-size acoustic.
Playability
If your child is physically big enough to play this guitar, then the playability is excellent. As I mentioned above, the neck and the body are bigger than what you would find on a comparable acoustic guitar, but that is par for the course with classical models. The large size of the body and neck are something to be aware of; it would be a good idea to test it out at your local music shop before purchase as getting an incorrect size of instrument for a child can affect how easy it is to learn and play. The C40 is very light, so that is a plus for older children, obviously making it comfortable to hold. The action is good, so it is not too hard for children to press down on the strings.
Sound
The C40 stays in tune very well after the strings have settled (see below). For the price, I think you would have trouble finding a guitar that sounds as good as this one. The sound is rich, and the tone is warm, It stays in tune very well, (again) for an instrument in this price range.
Quality
As with most of their models, you aren't going to find a lot of problems with Yamaha's production, they are known for their quality. This model in particular is very sturdy although light in weight. The wood they use is a little bit prone to denting, but the body structure is solid.
What to look out for with the C40
As with all classical guitars, there are a few issues that you need to be aware of:
There are three strings on the guitar that are nylon, and they will need to be stretched when you first get the guitar.
There are no strap buttons on the C40. Classical models are meant to be played while sitting down, so manufacturers do not include a strap peg to attach a strap. It can be annoying for players who aren't expecting this, and who prefer to play some of the time standing up.
Classical guitars tend to have thicker necks than steel string acoustics, and the neck on the C40 is pretty broad. If you are buying for someone with small hands, this might affect the playability. Since children have much smaller hands than an adult, if you are seriously considering this model, you will want to head over to a music store to make sure that the child can wrap their hands around the neck comfortably.
Another thing to be aware of is the gig bag that comes with this package is a little thin (not padded), and the wood on the C40 is a bit on the soft side, so it scratches and dents easily. Since kids can be rough on their instruments, you might want to consider investing in a padded gig bag if you buy this model. A lot of times when you are buying a 'starter' kit the accessories that come with the package aren't the best quality, so it's a good idea to be aware of that if you are considering a pack. If you want higher quality accessories, it is a good idea to buy the items separately.
Overall
I would recommend this guitar to an older child (age 11+) who is starting lessons and needs a classical, nylon stringed guitar. The C40 sounds beautiful plays well and is inexpensively priced. It's an excellent quality instrument, especially for a student who is just starting to play. Since it has nylon strings, it will make it so much better and less painful to get used than a steel string acoustic, although its large size might cause issues for smaller children.
Read More: The Best Guitar Books for Kids
Where's the Best Price?
Specifications
Yamaha C40 Classical
Top Material
Spruce
Back and Sides

Indonesian mahogany

Neck
Nato
Fingerboard

Javanese rosewood

Bridge
Rosewood
Hardware
Chrome
String Scale

22.8″ scale length

Case
included
Latest posts by Tom Martin
(see all)