Cordoba Requinto 580 1/2 Size Classical Guitar Review
Over the years a couple of people have asked me about the Cordoba Requinto 580, and whether it was a good option for kids ages 4-7 or so. I hadn't really been able to put much thought into answering that question until I came across one on a recent trip to Nashville.  Cordoba guitars are pretty popular in the classical guitar playing world and are known for being good quality with a nice sound to them. I was pretty impressed with this model, although it wouldn't be my first choice as a guitar for a child who is a beginner, partly because a slight issue I had with the size of the neck, and the fact that it has more of a Spanish sound to it, which is nice but not really my thing.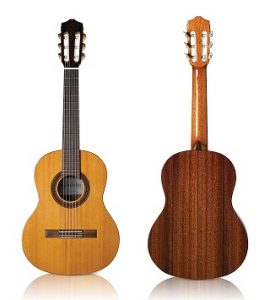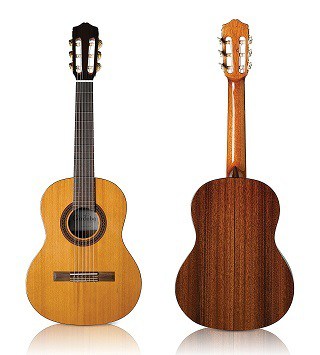 The Requinto is part of a line that also includes a ¾ Cordoba Cadete (615mm scale length), a 7/8 size (Dolce), and full size (C5). Cordoba has a couple of models that are very popular as beginner student classical guitars that are often recommended by guitar teachers. If you are interested, one other model you should check out is the Cordoba Protégé. The Protégé is probably the most recommended of the Cordoba designs for kids who are taking lessons. It isn't wildly expensive, and it comes in ¼, ½, ¾, and full size. The Requinto 580 is a little more costly than the Protégé.
In case you were wondering, 'requinto' is a term that is used in Spanish speaking regions to refer to a smaller version of a classical guitar that is tuned to a higher pitch than a regular classical guitar. I'm a bit confused as to why this guitar is called a requinto because Cordoba recommends that the guitar should have a regular tuning, not the high pitched tuning that is more common with a standard requinto guitar.
Read More: Guide to Buying a Beginner Classical (Nylon Stringed) Guitar for a Child
Appearance
Cordoba's 1/2 size Requinto guitar is handmade (in China) with a solid cedar top and mahogany back and sides. This model is part of Cordoba's Iberia collection, which is a budget line.  Make no mistake this is a Spanish style guitar, in both look and sound. The hand-inlaid all-natural wood rosette is nicely done and sets model apart from similar guitars in this price range. It has a gloss finish, the top is European cedar, the back and sides are mahogany, and the fingerboard is India rosewood.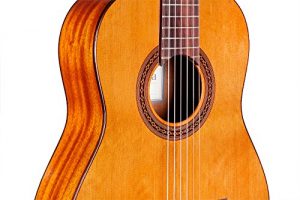 Playability
One of the reasons I don't think this would be a great guitar for kids is that the sizing is a little misleading. Getting the right size is essential to having good playability in a guitar. The requinto is labeled as a ½ size, but the scale length is almost 23" which is usually considered ¾ size. For that reason, if you are looking at this guitar for a child, I would recommend that they are at least eight years or more of age (unless they are big for their age then you can go a little younger). I would also make sure you to try out the guitar in person, so you aren't surprised by the sizing. The other issue is the neck is a little wide for a very small child to get their fingers around, making it harder for them to play.
Sound
The sound of the Requinto 580 is a rich, Spanish sound. Cordoba guitars are known for being lightweight, yet producing an incredible sound and this model is no exception. For a small guitar, it has a surprisingly good volume to it.
Quality
The artistry on the guitar that I looked at was outstanding. I was kind of surprised by it for a guitar in this price range. The woods were well matched, and I couldn't find any obvious flaws in the build.
What to look out for with this guitar
If you are looking for a proper "requinto" guitar that is supposed to be tuned a 4th higher than a regular guitar, this is not the right guitar for you. This Cordoba Requinto is intended to use the standard tuning of E-B-G-D-A-E.  It is possible to tune this model as high as a minor third up to G standard tuning, but you shouldn't go any higher than this because it could damage the guitar in the long term.  A proper requinto tuning is A-D-G-C-E-A.  So if you are looking for a requinto sound, you won't get it from this model unless you place the capo on the 5th fret.
Overall
The Cordoba Requinto 580 1/2 Size Acoustic Nylon String Classical Guitar is a beautiful 1/2 size slightly Spanish sounding guitar, but if you are looking for a first guitar for your child who is taking lessons, I'd probably skip this one unless you try it out in person and love it. The quality, the sound, and the look are excellent; I just have a little bit of an issue with the size of the neck (much too wide for kids ages 4-6) and the overall size that is misleading. I think the Cordoba Protégé is probably the better option unless money is no object and you like a little bit of Spanish flair to your guitars.
Check Pricing on
Read More: Resources to Help Kids Learn to play the Guitar
Specs
Top – Solid Canadian cedar
Back + Sides – Mahogany
Binding + Bridge – Indian rosewood binding / Indian rosewood bridge
Rosette – All natural inlaid wood mosaic
Finish – High Gloss PU
Neck + Fingerboard – Mahogany neck / Rosewood fingerboard / Traditional (Classical) Style Neck
Truss Rod – Two-way adjustable, 4mm
Scale Length – 580mm (22.8″)
Nut Width – 48mm / 1.89"
String Spacing at Saddle – 55mm
Fret Marker Inlays – Mother-of-Pearl at 5, 7, 9
Nut/Saddle Bone
Number of Frets – 12 to body, 19 total
Bracing/Build -Spanish 5 fan bracing
Body Width + Length 246mm (9.7″) at upper bout, 330mm (13″) at lower bout
Overall Length – 35.5″
Body Depth- 86mm (3.4″) at upper and lower bouts
Tuning Machines – Cordoba Gold Tuning Machines
Strings – Savarez Cristal Corum High Tension 500CJ
Latest posts by Tom Martin
(see all)