Cordoba is a good quality guitar company that is based in California. They were founded in 1997, and they mainly produce classical guitars and ukuleles. They make a decent number of small scale classical guitars, some more appropriate for kids than others. If you are looking for a smaller classical guitar for your child, Cordoba's Protégé C1 is probably your best option out of the Cordoba models. It comes in a ¼, ½, ¾ and a full size. This is a great choice to consider if you are looking for a 1/4 size guitar for kids who are 4-6 years old, since there are not a lot of high quality guitars that are that size, especially for kids who are taking lessons.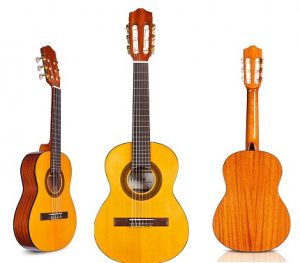 The Protégé line is one of Cordoba's designs that is intended to give beginners and children a high-quality instrument to learn on. Since they are a classical Spanish style guitar, they have nylon strings, which many people prefer kids to learn on since they are easier on your fingers. Cordoba guitars are generally very lightweight, which can help to make them more comfortable to hold and play than heavier guitars.
Read More: Guide to Buying a Beginner Classical (Nylon Stringed) Guitar for a Child
Appearance
The C1 is a nylon string Spanish style guitar that is a very nice looking instrument with a spruce top and mahogany back and sides. It also has a rosewood bridge and fingerboard. The rosette is a Hauser-style wood-inlaid mosaic. The turners are nickel, and it comes with a high gloss finish. All of the Protégé guitars have a two-way truss rod. There are some very minor difference between the different sizes, but nothing much to note. This model usually comes with a standard Cordoba gig bag.
Playability
As we stress over and over on this site, if you want to get your child a guitar that will be easy and comfortable to play, you must get them a guitar that is the right size for their age and height. What is excellent about the C1 is that you have four different sizes of guitar to choose from, so you shouldn't have any trouble getting the right size for the child. If you are looking for a good guitar for a child who is aged 4-6 who is taking lessons and you would like a ¼ size, then you should definitely check this one out.
Sound
One problem that you come across with guitars in this price range or lower is that they don't tend to stay in tune for very long. The C1 seems to stay in tune pretty well, for a decent amount of time. I don't think it's the worst thing in the world if a child's guitar doesn't stay in tune perfectly all the time, because then they have to learn how to tune it and it is a good thing to know. However, if your guitar is continually going out of tune, it can become a real hassle and may discourage your child from playing.
The tone of the C1 is rich and full, more so on the larger sizes, which is to be expected.
Quality
The C1 is an excellent guitar for the price, the quality is nice, and the guitar seems well made. It comes with good strings, so you won't need to swap them out for something better, which is a common issue with many new guitars. The one thing that I would mention about the guitar is that because it is lightweight, it feels maybe a little more delicate than some of the other student guitars in this price range. If you have a child, who isn't too rough with their things this model would be okay. If you have a child who is going to give the guitar a good workout, I would highly recommend trying it out before purchase.
What to look out for with this guitar
The guitar bag that comes with the C1 seems a little thin. It isn't the biggest deal, but if you are worried about the guitar being damaged, you may want to invest in a more padded gig bag.
Overall
I definitely think the Cordoba Protégé C1 is a great guitar for kids who are starting lessons. It is pretty well priced for the quality and the workmanship you are getting .This model is designed specifically to give beginners and children a high quality instrument to learn on, but without paying through the nose for it. It is a comfortable and easy to play guitar that has a great sound to it.
Latest posts by Tom Martin
(see all)