Yamaha APXT2 3/4-Size Acoustic-Electric Guitar

There aren't a lot of options if you are looking for a decent smaller sized acoustic-electric guitar for a child. The APXT2 is one of the few on the market but luckily it is a great little guitar. I love the look of this model; it comes in an excellent range of cool color options that I think most kids will like (the black and red are standout choices for me). I also love the built-in tuner; having a built-in tuner is a great feature for any guitar player, but it is especially useful for beginners.  Yamaha is great at delivering good quality student guitars for a very reasonable price, and the APXT2 is no exception. It has a great design, good sound and would be a fantastic starter guitar for most kids.
Read More: Guide to Buying a Beginner Classical (Nylon Stringed) Guitar for a Child
Appearance
The APXT2 has a modern cutaway design which is kind of perfect for kids because it allows much easier access to the lower frets. It comes in 6 different wood/color options. If you go for the Spruce Top you can get it in: black, dark red burst, or natural. If you choose the Exotic Wood Top you can get it in: natural, tobacco sunburst or light amber burst. All of the color choices look equally sharp to me.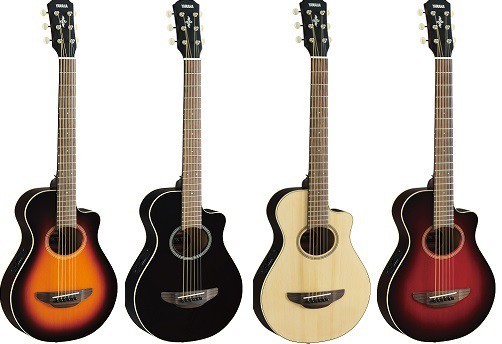 Playability
There are a few features to the APXT2 that make it very easy for kids to play. The first thing is the size, buying a 3/4 size guitar for your child who is between the ages of 8-11 will make it so much easier for them to feel comfortable holding the guitar. The neck is also thinner, so it makes it easier for kids to wrap their fingers around the neck and reach the strings. This model is slightly smaller than most average 3/4 size.
Another feature that takes away some of the physical limitation or difficulties that kids may encounter when learning is the design of the guitar. Since it has a cutaway design, it is much easier for kids to reach the strings.
One final feature that adds to the playability is the built-in tuner. Having a built-in tuner makes it so much more convenient to tune the guitar rather than having to look around your house to figure out where you left your tuner.
You should note that this guitar has steel strings, which a lot of guitar teachers don't like to start kids on because they think they are too hard on their fingers, and nylon strings are slightly more comfortable to play. To me, this shouldn't be a reason not to get this guitar; you will just have to spend a bit more time getting your kids used to the steel strings.
Sound
So the APXT2 is an acoustic-electric guitar, what that means is you can play it like a regular acoustic or if you need to project the sound you can plug it into an amp and amplify the sound. Most acoustic guitars are pretty loud, and your child will probably for the most part just use it as an acoustic. The times when they would use the electric/pickup would be for things like recording themselves or performing live at a school concert or recital. I would guess for an average kid they will just be playing it without being plugged in 80% of the time.
As far as the sound itself, on the guitar I tried out it had a nice warm tone to it. Smaller guitars don't give you the same full sound as a full-size acoustic, but that isn't a big issue for children who are just learning to play.
Quality
Since this is a Yamaha guitar the quality is top notch. Obviously in this price range you can't expect to be getting the types of woods or electronics that you wood on a high-end model, but everything on the APXT2 will exceed most parents' expectations.
Some users don't like the tuning pegs; I thought they were fine on the APXT2 that I was testing out.
Things to watch out for
If you are guitar person, you may not love the strings that it comes with; although for most kids they are okay. This model is perhaps slightly smaller than most standard 3/4 size guitars, it's not as small as a 1/2 size, but it was a little smaller than I was expecting for a 3/4.
It comes with a nice soft shell gig bag; if you want a hard shell case, you will have to order one separately. A good 3/4 size hard shell case that fits most 3/4 guitars is this one from Gator.
Since it has the electric option, you will need to buy an amp with a cable to use it as an electric, but no cable is needed when using it as an acoustic.
The Yamaha APXT2 is the best acoustic-electric guitar option for kids, especially kids who are ages 8, 9, 10 or 11. The cutaway shape of the design, the built in tuner, and the 3/4 size make this a easy to play guitar for almost any child. While the quality, the built in pickup and the exceptional sound mean that you are getting a great deal for the price.


Specs- Yamaha APXT2 3/4-Size Acoustic-Electric
Scale length- 22.75″ (580mm)
Top – Spruce
Back/Sides-  Meranti
Neck- Nato or Mahogany
Fingerboard – Rosewood
Body Depth – 65-75 mm
Width at nut- 1 11/16″ (43mm)
Number of frets-  18
Bridge-  Rosewood
Tuners-  Covered Tuners
Preamp -System 68 (Contact Pickup)
Case – Soft padded gigbag
Latest posts by Tom Martin
(see all)