Martin LX1 Little Martin Review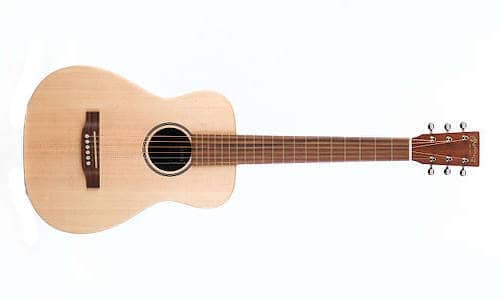 The Martin LX1 is a gorgeous 3/4 size acoustic guitar that would be a great starter instrument for young kids who are between ages 7 to 10 and who are taking lessons.  The other model that is comparable to the LX1 is Taylor Guitar Baby Taylor model.
The LX1 is part of the Little Martin LX series, which is a series of 4 categories of 3/4 size guitars. There are seven different models total in the series. In my opinion, the LX1 is the best guitar for kids in the LX series.
A lot of people love the tone of the LX series Martin guitars over the Baby Taylor, but in all honesty, they both sound great for the price you are paying. The Little Martin has a maybe slightly better tone, but that is a personal preference. If you are unsure which to get, go to your local music store and try them out.
Read More: How to Buy your Child Their First Guitar
Appearance
The Martin LX1 is a dreadnought-style, steel string, 3/4 scale. The top of the guitar is made from solid Sitka spruce, so it has a nice natural look to it. The sides and back are Martin's Mahogany patterned high-pressure laminate (HPL).  Some guitar aficionados don't like the use of the HPL and prefer guitars made of real wood, but this isn't an issue for kids since the laminate makes the guitar more durable. The fretboard and bridge are East Indian rosewood fretboard and bridge. It comes with a great heavily padded gig bag, another bonus if you are buying a guitar for a child who may be traveling back and forth to lessons.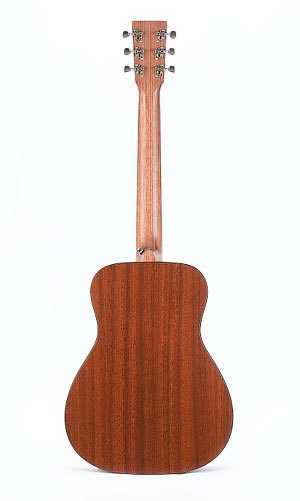 Playability
The playability is top notch on the LX1; although I was surprised by the weight of the body, it was a little heavier than I was expecting, although it will still be easy for a child to learn on because the size of the body (3/4) makes it easy for children to hold.  If you have a child, who is a little rough with their things you may like the HPL material of the body of the guitar since it has a very sturdy feel to it.
Sound
The LX1 has a beautiful rich sound that won't disappoint. The tone is bright and warm.  It comes with pretty nice strings that stay in tune well. Since it is a smaller scale, it isn't as loud as bigger guitars, but it does have pretty good volume for a little guitar. Martins have kind of a unique sound, and this one has that Martin sound to it as well.
Quality
Everything about the LX1 shows the quality that goes into Martin guitars. Some players won't like the HPL if they are used to higher end guitars. For kids, HPL is excellent since it is super durable and will be able to take a beating while also lasting a long time.  The tuners are better quality than I'm used to seeing in this price range and the quality on the neck is excellent.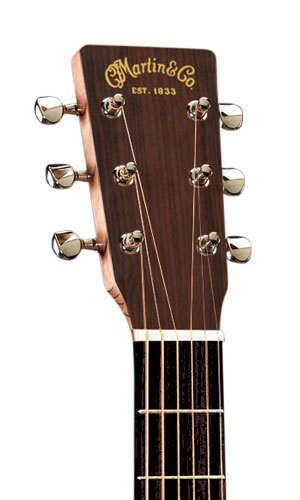 What to be Aware of with Martin LX1
If you are interested in this guitar, you should also look at the other guitars in the LX series since they are all pretty nice.  Some have electronics so that you can plug them in for a bigger sound, some are slightly less expensive (because they have the HPL top) and there are also aesthetic differences (black or Koa wood look).
The biggest complaint against the guitars in the LX series is the use of HPL or "High-Pressure Laminate." HPL is kind of like a plastic that is made to look like wood, so it puts a lot of people off. Unfortunately, if you want to get an inexpensive guitar in this price range from a big brand name company, HPL is what is used to help keep the price down.
Overall
The Martin LX1 is one of your best options if your budget is in the $300-$400 price range and you want a top brand name. It will last for a long time due to the durability of the HPL while also sounding great. It is one of the least expensive Martin guitars that you can buy, so if you are into the Martin brand, this model is a budget-friendly option to try out the Martin brand.  The sound and playability are incredible so you would be hard pressed to have a bad time playing this little instrument. If you're a parent looking to buy a guitar for your kid to learn on, the LX1 is an excellent choice. It's a perfect size, has good action for their little fingers and it has a great sound.
Latest posts by Tom Martin
(see all)