Hola! HG-36SB Junior Acoustic Guitar Review
If you know me, I'm always on the lookout for a good 3/4 size guitar that kids will love. A few people have asked me about the Hola! HG-36SB Junior Acoustic Guitar and whether this is a good model for kids. I haven't tried this guitar myself, but the reviews for the guitar are overwhelmingly positive and appear to be legit.
It is a 3/4 size model that most players report has low action right out of the box with a few minor adjustments, so yes this is a good guitar to consider if you are looking for an acoustic guitar for a child in the age range of 7- 8 or older.
Hola Music is a relatively new brand that is primarily sold through Amazon. I can't find a website for Hola Music, only a Facebook page.  Since I haven't tried this guitar myself,  I'm just going to write up a little summary of what people are saying about it.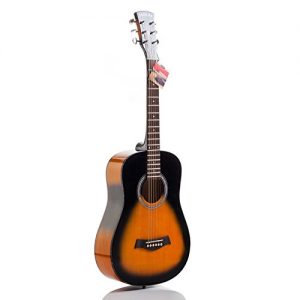 The general opinion on this guitar is that it is an excellent value for the money that you are paying. For less than $100, you are getting a good sound, decent quality and is a good option as an entry level guitar.  It is a smaller, 3/4 size acoustic guitar so that it won't sound the same as a full sized acoustic. However, it is a great size for kids.  Full-size acoustics are pretty big and tend to be hard for kids under the age of 12 to hold.
Appearance
The HG-36N has a lightweight spruce top, with a mahogany back, sides and neck. It used to be unusual for a guitar in this price range to be made of real wood and not laminate, but with manufacturing in China, it isn't that uncommon anymore. Using real wood helps to add to the sound and overall quality of the guitar.
It has a satin finish so that it won't be too shiny and more of a middle ground all-purpose finish. The fingerboard is rosewood, which is a common wood used on fingerboards. The bridge has TUSQ nut and a compensated TUSQ saddle. TUSQ is a company that makes human-made ivory, which helps to create a richer and fuller tone on the instrument. The TUSQ nut and saddle are a nice touch, and a little surprising because TUSQ parts are considered good and add a lot to the performance of a guitar.
Playability
When I'm looking at guitars that are good for kids, there are certain factors that I always look for. Size is super important since if the guitar is too big it will be challenging for a child to play. This model, as I have already mentioned, is 3/4 size – which is a great size for kids (older than 8 or so). Good options for kids should also be lightweight, so it is easy for kids to hold and carry them around,  which this one is. Out of the box (with a little bit of minor adjustment), most reviewers say that the action is low, which just means that it is easier to press down on the strings, another essential feature to look for when shopping for kids guitars.
Sound
One of the things that is most often noted about this guitar in reviews is the excellent sound. It is described as being warm and resonant and is comparable to the sound on some higher end guitars. The tone and clarity are also reportedly excellent. Just to note, if you are used to full-sized acoustics, the sound on this 3/4 size won't be as full or as big.
Things to be aware of with the Hola! HG-36SB
It is an acoustic guitar, so that means that it has steel strings. A lot of people don't like to start kids on steel string guitars because it hurts your fingers when you first start playing. It takes some time to build up calluses so it doesn't hurt as much, which can become discouraging. If you are worried about this, then look at classical style guitars.
Quality
Hola!'s guitars are made in China, which probably isn't a huge shock. Some of the guitars coming out of China are getting pretty solid, and this is a perfect example of this.  For guitars in this price range people don't often mention good craftsmanship, so it is a little surprising to read quite a few of the reviews who say that the crafting on this guitar is good, actually not just good, some reviewers describe it as superb or excellent.
Overall
Even though I haven't had a chance to get my hands on a Hola! HG-36SB myself, if you are on the market for a 3/4 size acoustic guitar for your child, I would recommend researching this guitar. From most accounts, it seems to be a well priced, entry-level instrument that is well made, easy to play and that has excellent sound.
PROS:  It is a quality instrument for the price you are paying. Great sound, good quality.
CONS: It has steel strings that some children may find uncomfortable to play. Not available as a left-handed model.
Check Pricing on Amazon
Latest posts by Tom Martin
(see all)