Epiphone DR-100 Acoustic Guitar Review
The Epiphone DR-100 is a good option as a reliable, great sounding and inexpensive starter guitar for a teen or kid age 12 and up. The DR-100 is made by Epiphone, which is a sub-brand of Gibson, who use it to put out the budget designs of their more high-end guitars. So with the DR-100, you are getting some of the stylings of a Gibson, but without the hefty price tag. What is interesting about this model is that for the price, you are getting incredible quality and sound that you don't find in guitars generally in this price range.
Appearance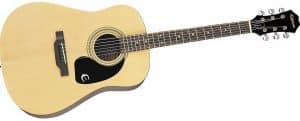 The DR-100 has classic dreadnought shape that people like for playing all kinds of music like bluegrass, folk, rock, country, etc. It has a beautiful fit and finishes that you can get in Ebony, Natural and Vintage Sunburst; the Ebony is especially impressive looking. The top is select spruce, and it has a mahogany body and neck, so that helps add to the rich sound it produces
Playability
It is an easy guitar to play; it has a smooth, low action that is generally considered suitable for beginners. If you are lucky, it should come set up well right out of the box, so you shouldn't have to make too many adjustments. It is also straightforward to tune, which is essential for beginners.
Sound
It has excellent sound and tone, much better than you would expect for such an inexpensive model. It stays in tune well for long periods, which is also something pretty crucial for beginners. If a guitar is continually going out of tune, it becomes very frustrating and reduces the chances that your child will enjoy learning and stick with it.
Quality
The quality on the DR-100 is very good for an instrument in this price range. There are some minor flaws with some aspects of the craftsmanship, but they are hard to notice unless you are looking and you are a stickler for that kind of thing. The flaws don't make any difference to the tone or playability of the guitar, so it isn't something that a beginner needs to worry about.
Things to watch out for
As with a lot of guitars, you may want to consider switching out the stock strings that it comes with for something a little higher quality. If you aren't sure how to do this, check on YouTube or take it to your local music store.
Overall
It is a perfect full-size beginner acoustic for a teen or any beginner. The quality, sound, and playability make it an ideal instrument to learn on.  The DR-100 also has an excellent build, so it's perfect for kids who might knock it around a bit. You would be hard pressed to find a better sounding and better value guitar in this price range.
Where's the Best Price?
Specifications- Epiphone DR-100 Acoustic Guitar
Body- Mahogany
Neck- Mahogany glued
Fingerboard- Rosewood
Fingerboard Inlay- Pearloid dot inlay
Scale- 25.5"
Nut- 1.69"
Hardware- Nickel
Machine Heads- Premium tuners
Colors- Ebony (EB), Natural (NA), Vintage Sunburst (VS)
Latest posts by Tom Martin
(see all)