We have been getting a number of emails asking about bass guitars for kids. While bass isn't nearly as popular as a starting instrument there are some really cool basses available that are perfect for kids, although you have to look a little harder to find them.
What is the difference between a bass and a guitar?
If you are buying as a gift, or are new to guitars, you may be wondering about the difference between a standard guitar and a standard bass, the main difference are:
Pitch: Bass guitar plays notes an octave lower than a regular guitar. So it has a 'lower' sound.
Number of strings: Guitars have generally have six strings, while bass guitars have four strings
Strings: Bass strings are thicker than guitar strings
Bass guitars are usually larger in size and length, and also heavier than regular guitars.
What should you be looking for when buying a bass guitar?
When shopping for a bass it is worth doing a bit of research. If you aren't into playing music yourself and your child asks for an instrument I think a lot of parents have the tendency to go down to Toys R Us and pick up a First Act guitar and give that to their kid or order a generic Chinese import from Amazon. Don't do this if you want your child to really develop a love of playing music. It is worth buying a quality instrument that is the right size and plays well because it will give your child a higher chance of sticking with it. Honestly, if you buy a cheap instrument they are harder to play and it will be money wasted
Have the child hold the bass. After coming up with a list of few models that you are interested in, head down to your local guitar store. They may not have a huge selection of short scale basses, but have your child hold a few different models to see what they like and what feels comfortable.
Learn about the specs of any models that you like. What are they made of? What is the scale length? What are the electronics?
If you have found a bass that you like, check over the instrument. Look at the neck, make sure it is straight and not warped. Check how well your child's hands fit around the neck, make sure it isn't too wide. Have them hold it while they are sitting down as well as standing up, make sure it isn't too heavy Ask them if it feels right for them.
As with regular guitars, the most important thing to look at is the size of the instrument, if it is too large or too heavy it will be difficult for your child to play. I personally wouldn't buy even a small bass for anyone under the age of 8, but there are exceptions to this. If you are buying for a child in the 8 to 12 year old range you should be looking for either a short scale or a 3/4 size bass. Some sellers use the term 3/4 and short-scale interchangeably, but they are different.  A 3/4 is 3/4 the size of a regular sized bass with a scale length somewhere around 28.5". While a short scale just means length of the neck (and the strings) is shorter than a regular neck, somewhere around 30 to 32". It is very important that you check the scale length because if you buy one too long it will be much too difficult to learn on.
Short-Scales Basses
Ibanez GSRM20 Mikro Short-Scale Bass Guitar
The GSRM20 gets recommended a fair amount as a good option for kids. The scale length is 28.6″ so it is pretty small and easy for a child to move their fingers around. It is also very light weight so it would be easy for most kids to hold. It is a great bass to learn on, has great tone and generally good sound. Price approximately $180.
Squier Vintage Modified Jaguar Special Short Scale Bass

This Modified Jaguar Special SS is also another very popular option for kids. Since it is a Squier (Fender's budget line) you know you are getting decent quality, so if your child ends up not taking to the bass you will have a good shot at getting a good chunk of your money back if you sell it second hand. The neck is 30" scale and most owners tend to agree that this is a great value for the quality you are getting. . Price approximately $180.
Hofner Ignition Series Vintage Violin Bass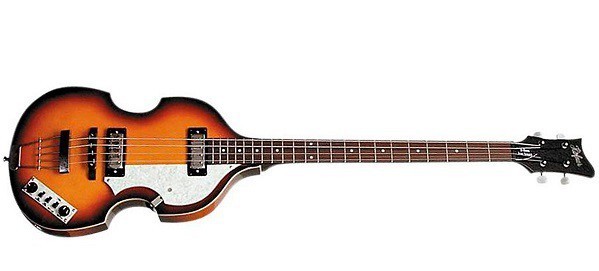 This is kind of an odd option to include for kids, but I thought why not throw it in so people know it is out there. This Hofner is a pricey short-scale bass inspired by Paul McCartney's Hofner bass. It is unique looking violin bass with some beautiful design features. It has a 30″ scale with 22 frets, making it size-wise a decent option for kids (if price is no object). Price approximately $500.
3/4 Models
The idea of the 3/4 size models is the whole bass is 3/4 the size of a full sized bass, including the neck as well as the body. While the short-scale basses just mean the body is regular size while the neck is shorter.
SX Ursa 4 JR RN 3TS Short Scale Bass Guitar

SX has a bunch of different size and colors (purple, blue red, sunburst) for basses. In the specs of the Ursa it says it is a '3/4 size bass is about 3″ shorter and 2″ more narrow than a full size bass. It also gives the height recommendation of between 4'2″ and 4'10" for this bass. This one is definitely made for kids and would probably be a great choice
ESP LTD B-4 JR Junior Black 3/4 Scale Childrens Mikro Bass Guitar

ESP Guitars is a Japanese guitar manufacturer that is known for their good quality basses. The B-4 JR is a 3/4-sized version of the ESP's LTD B Series bass. The Scale is 28.5″ and it only seems to come in black at this point in time. Price approx. $190.
Oscar Schmidt Electric Bass 3/4 Size

This is one of the few high quality basses that has been specifically designed with kids in mind. The OB25 is a good entry level bass for younger students with smaller hands.  3/4 size Price $170.
Dean Hillsboro Junior 3/4- 4-Strings Bass Guitar

The Hillsboro by Dean Guitars is a nice solid instrument that is priced slightly cheaper than some of it competitors it has a 30″ scale and is a true 3/4 size so it is great for kids. Some owners have has issues with the sound. Price approximately $155.
Some of the links in this post may be affiliate links (meaning the site makes a small commission if you purchase an item that is linked).